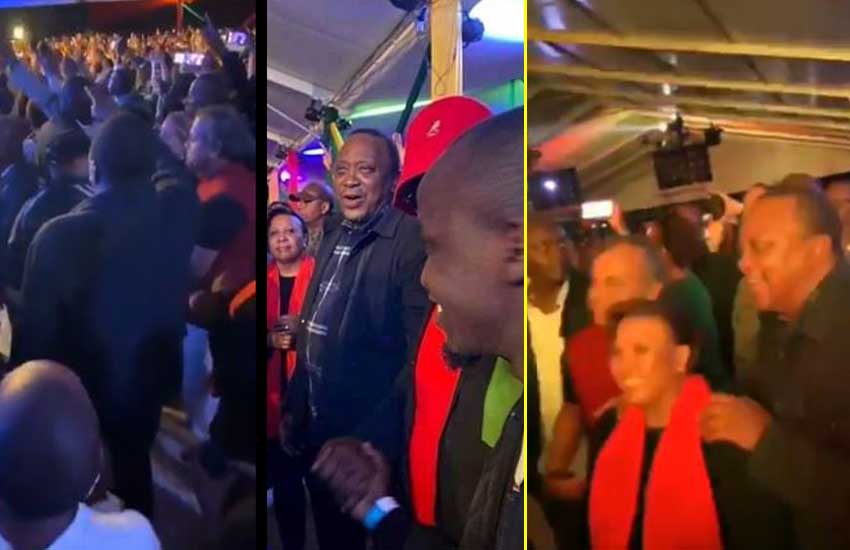 President Uhuru Kenyatta's love for English reggae and pop band UB40 played out on Saturday, February 1, when the head of state attended its highly anticipated Carnivore concert.
True to his Churchill Show appearance statement, "I'm stuck in a certain age, my favourite musicians are UB40, Gregory Isaac and Bob Marley," President Kenyatta shunned the VIP and mingled freely with revellers on the regular section.
President Kenyatta sang along and grooved to literally every tune belted out by UB40's Ali and Astro, presenting themselves as UB40 following the band's split in 2008; three decades after its humble beginnings in Birmingham, UK.  
President Uhuru having a great Saturday night at the #UB40ConcertLiveinNairobi. Mko? pic.twitter.com/EeeVlHgaWZ

— Ahmed Mohamed ((ASMALi)) (@Asmali77) February 1, 2020
He was not alone. ODM leader Raila Odinga who has in recent weeks rejuvenated BBI rallies with his newfound love of reggae also showed how he too has the moves like Jagger.
Not far from the frame, media personality Jeff Koinange revelled at the moment in the presence of the two political heavyweights, in a night billed by many reggae heads, as a good start to 2020.
Kenyans on Twitter (KOT) had a lot to say about their President having fun at the UB40 concert.
Rt. Hon. Raila Odinga having fun at the #UB40ConcertLiveinNairobi#UB40InNairobi. For sure Music is the literature of the heart; it commences where speech ends. (Video Courtesy) ) pic.twitter.com/FAJCBGydA4

— Hon Alinur Mohamed???????? (@HonAlinur) February 1, 2020
Uhuru Kenyatta is arguably the coolest president Kenya has ever had since independence ????.The fun here was overwhelming & incredible! #UhuruKenyatta
????video courtesy pic.twitter.com/cpCkvsJpKV — FIELD MARSHAL ™???????? (@eddy_kiplimo) February 2, 2020
#UB40ConcertLiveinNairobi#UhuruKenyatta
HE Uhuru Kenyatta having a good time indeed,Baba should borrow some dance moves from UK ???? pic.twitter.com/Ph4KZXIqCM — FIELD MARSHAL ™???????? (@eddy_kiplimo) February 2, 2020
Jeff Koinange welcoming #UhuruKenyatta at the #UB40ConcertLiveinNairobi concert pic.twitter.com/fFS9N169QU — Breaking News Kenya (@BreakNewsKE) February 1, 2020
has #UhuruKenyatta gone to carnivore to stop reggae? i cannot fathom. pic.twitter.com/eZ00PyGzGm — Tonny ™ ???????? (@TonnyLegal) February 1, 2020
Your president #UhuruKenyatta knows how to get down... #UB40InNairobi#ub40liveinnairobipic.twitter.com/Ka7DUOvE2Q — Ben Benjamin (@BenBenjieh) February 1, 2020
Imagine attending a concert with the President! Seems even Uhuru got paid this Friday. #UhuruKenyatta#UB40InNairobihttps://t.co/L0pGSMQyF8 — Stella Ngugi (@iamStellaNgugi) February 2, 2020