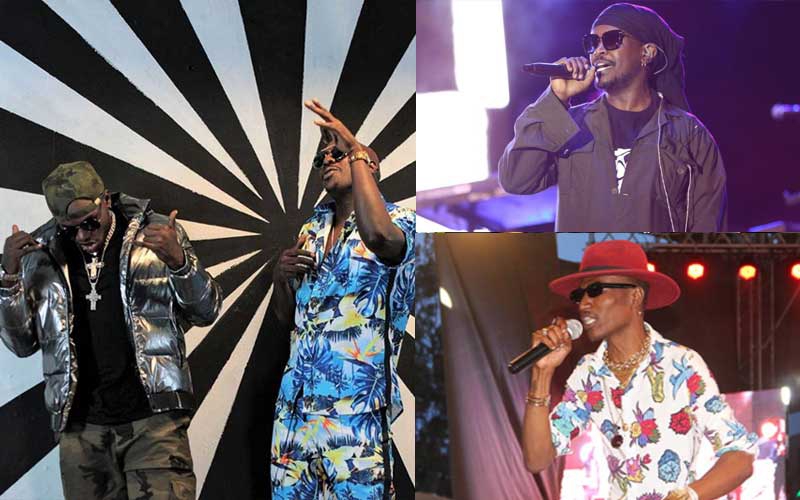 When Khaligraph Jones won the 'Best in Hip-Hop' gong at the Soundcity MVP Awards held in early January, it did not come as a surprise to hip-hop fans given the amount work the rapper puts in.
Two weeks after releasing 'Best Rapper in Nigeria,' a diss track aimed at Nigeria rapper Blaqbonez, Khali has dropped a new banger featuring Sautisol's Bien Aime.
'Yes Bana' was released on Thursday and is the top trending YouTube video in Kenya, garnering almost 200,000 views in 24 hours.
With Bien's soulful hook perfectly blending in with Khali's impeccable flow on the laid-back hip hop beat, the song promises to be a bigger hit than their previous collaboration 'Rewind.'
In Khali's first line of the track, the father of one sets the tone for the song by pointing out that he's not come to play.
"Hii mwaka nimejam na sijali, I swear nimekam na makali," he raps.
Play Kenyan music, reaching out to fellow rappers
In 2019 Khaligraph was credited for starting the Playke movement calling for Kenyan musicians to be given more airplay by radio stations.  In 'Yes Bana', he affirms that he's still pushing for the cause, while namedropping some of the musicians he might be working with in 2020.
"Ntapiga collabo na Fally (Ipupa), then ngoma na Dola Kabarry, Arrow Bwoy, Kan Kaka (King Kaka) Juacali, playke jo na si tafadhali," he spits.
Khali also reached out to fellow rappers Henry 'Octopizzo' Ohanga and Nyashinski, pointing out that he has no qualms doing collaborations with them.
The Blue Ink Corp label head honcho questioned Octo why he doesn't want a collaboration, adding that he had also reached out to Nyashinski without success.
"Me sina beef na Ohanga,
"Ohanga hunitaki kwanini?
"Mbona usifanye track na mimi?
"Tu top hizi chart za mjini,
"After that you'll be happy amini," he raps to Octopizzo.
"Shinski collabo tufanye, tushike from Dago to Cani,
"Into brother asemanyi (hey bro, I've looked for you)."
Khali also rapped about Huddah avoiding his calls, telling the socialite he has no intention of bedding her since he already has a wife.
"Huddah simu hashiki, anadhani me ntaka kumpiga miti
"Nina wife jo sipendi hiyo kiki,
"I'm done with this sh** jo oriti( bye)," he concludes.