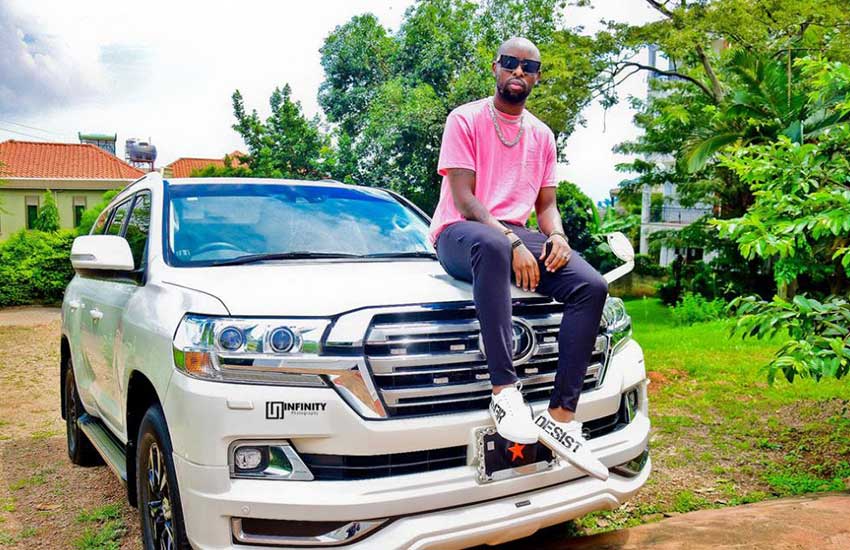 Ugandan singer Eddy Kenzo has denied claims that he received a brand new Toyota Land Cruiser from President Yoweri Museveni after a late 2019 meeting.
Speaking to Sqoop, Kenzo clarified that the plateless, sleek purchase with zero mileage and exquisite interior that screams opulence was courtesy of his hard work.
Kenzo flatly rejected notions that he was benefiting from President Museveni's generous purse that has seen several artistes smile all the way to the bank in what is touted by some observers as a massive musical build-up ahead of the 2021 elections.
He reiterated that the 2018 V8 model was mistaken and falsely attributed to the head of state who has been in power since 1986.
"Ever since meeting the president, every milestone I achieve is attributed to him. I have achieved a lot. The car is just one of those smallest achievements I have made. When I bought my car shortly after meeting the president, some people mistook it to be a gift from him. The car is mine. I have never got a car from His Excellency. Get your facts right," said Kenzo.
Read Also:Eddy Kenzo separates with Baby Mama Rema
Tweeting on meeting the Sitya Loss hitmaker on October 28, 2019, President Museveni stated the BET star is an inspiration.
"I met with the recently crowned African Entertainer of the year and BET award winner, Edrisah Musuuza alias Eddy Kenzo. His story is one of resilience and hard work. Growing up as an orphan to a celebrated and inspirational artiste. I wish him and his team good luck," he wrote.
A nod that saw Kenzo reciprocate the message in kind. "I feel blessed that I met the President. This will inspire other unprivileged children to know that they can be successful one day," he told New Vision.
Read Also: Eddy Kenzo's message as ex-lover introduces new man to her family
Coincidentally, two musicians; King Micheal and Big Eye were around the same period basking in glory after they were honoured for their work following pleas by ragga star Bebe Cool and Catherine Kusasira - a senior presidential advisor on Kampala affairs.
President Yoweri Museveni gifted them with 30 cows each.
"There were a lot of cows at Kololo recently and I was told they were to be slaughtered. I told Balaam that they too many just to be eaten and that they should just be grazed so he promised to talk to the president about this and today, after receiving a call from Balaam, I was given 30 cows. I will be taking them to Luwero where I will be grazing them from. Come 2022, my voice is going to be sharp from the milk I will be drinking," said Michael.
In a twist, another singer is under fire from Museveni's rival faction People Power Movement after photos emerged of him with the head of state.
Read Also: Wedding - Eddy Kenzo's ex brings Kampala to a halt
According to The Observer, the People Power Movement - led by Bobi Wine - has tasked singer Bosmic Otim who also doubles up as its Acholi sub-region mobiliser to explain the meeting.
"We hope that as his leaders, he can reach out to us and explain a couple of these things that have started to happen. It is difficult of course. He has been meeting the president, we understand he has been given money and in the public eye he has lost trust because it looks like he's after money. We need him to explain these things to us before we take whatever decision we have to take." said the movement's spokesperson Joel Ssenyonyi.