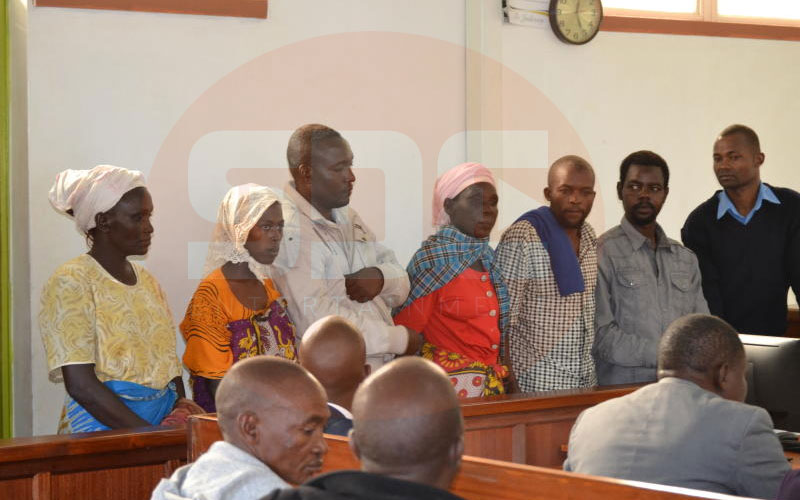 Six more suspects were yesterday arraigned at the Kitui Laws Courts in connection with the murder of Daisy Mbaluka, a primary school teacher killed a week ago.
The suspects, three men and three women, did not take plea as detectives investigating the murder asked for more time to detain them. The court granted them 21 days to hold the suspects.
This brings to eight the number of suspects arrested so far since Ms Mbaluka, a teacher at Ndooni Primary School in Kitui East, was waylaid and lynched by a mob.
Among the suspects in court yesterday was Mulwa Mutiso, a man who narrated to The Standard how he was reportedly tortured by Mbaluka and her accomplices at her house where she had invited him to do some work.
Mutiso claimed that he was beaten with metal bars and his private parts badly injured as Mbaluka accused him of spying on her and reporting to her estranged husband.
READ ALSO: 'I was tortured in murdered Kitui teacher's house till I fainted'
He reported the matter at Endau Police Station on January 2, 2020 under OB number 17/02/01/2020.
The other was Lawrence Mbindi, the husband of the late teacher who, in an earlier interview, revealed that he fled home years back and was living in Nairobi after being evicted by his wife and her alleged lover, whom Mutiso also cited in his statement as one of his attackers.
On Saturday, Mbindi spent the better part of the day being grilled by detectives at his home in Makuka village. Other suspects were Mutiso's wife Rachael Mutuku, his mother Nzangi Mulwa, his uncle Amos Jacob and Martha Musili.
Police have so far painted Mutiso as a prime suspect in the cold-blooded murder and claims that he went into hiding since the teacher was killed. He was arrested at his uncle's home at Makuka village on Sunday evening.