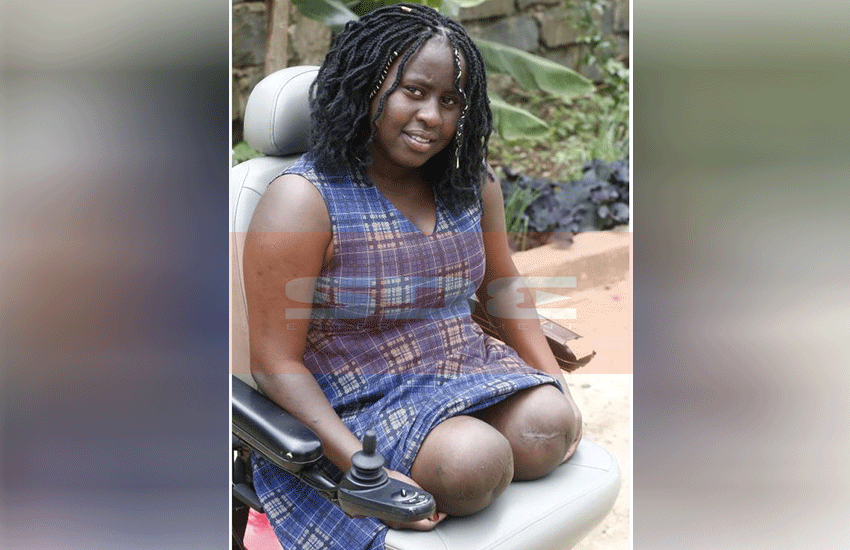 Joyfaith Waithera, 17, lost her limbs after an accident as she was preparing to sit KCSE examinations last year, at Moi Forces Academy, Lanet.
This forced her to leave the boarding school as she needed constant assistance and medicare. She was transferred to Naivasha Girls.
"Though I was still learning how to operate without legs, I was forced to quickly adapt at my new school as a day scholar. At times I could strain sitting for long hours and to get to school late, but was determined," she recalls.
This did not dampen her determination to succeed in exams and she scored B plain of 60 points. Waithera was however not happy with her performance as she failed to attain good grades to qualify to study medicine.
Read Also: Students lost limbs in Huruma, Makongeni tragedy
She regrets that she did not attend revision classes and missed some topics while away on treatment.
Waithera now aspires to study accounting and computer science. "Dental surgery was my dream career and I hoped to score A. But I did not attain the grade and I cannot also move so fast, the reason I have decided to change my dream career," she says.
Hit by a trailer
Though with no legs, Waithera affords a smile and happily interacts with her family and friends.
The teen from Kayole estate in Naivasha town was hit by a trailer as she walked home from doing revision with a friend on April 16, 2019. The driver reportedly lost control of the vehicle leading to the accident.
Well-wishers took her to Naivasha hospital and she was later referred to the Rift Valley Provincial General Hospital for specialised care.
Doctors at the facility unsuccessfully worked around the clock to save her limbs before they amputated them.
"I cried a lot when I realised I could not stand after my legs were amputated. I questioned why the decision was taken and if actually I could live to attain my dreams. That was my worst moment in life," recalls the minor.
Read Also:One-month-old baby amputated after botched circumcision
The last born in a family of four did not give up in life. Having survived death by a whisker, she decided to pick up herself and work towards attaining her dreams.
She is able to perform house chores like mopping, cooking, washing clothes and ironing.
However, she misses her hobby - swimming. Waithera spends time watching movies and reading inspirational books. She encourages people with disability to accept themselves and work towards attaining their goals.
"My current condition has made me appreciate friends who come to support and encourage me each day. This has made me gain strength that keeps me going," she says.
She adds, "Self-acceptance has also played a role in putting a smile on my face. I never knew I would rise again and associate with people. This is a condition I never anticipated and so I have to live with it".
Her father Benjamin Mwaura was shocked to receive the news of the amputation of her daughter's legs. He was taking samples of a cancer patient to Texas hospital in Nairobi, when the news came.
"I was in pain and agony when my daughter's legs were amputated. I cried when I saw her try to lift her legs, perhaps to get out of the bed, but it was impossible. She stared at the wound tears flowing from her eyes. I could feel the pain," he says.
To help Waithera heal, he took her through counseling and showed her pictures of the legs that were amputated. They were badly crushed and could not be saved.
Further, Mr Mwaura showered his daughter with love and encouraged her to accept the condition and focus on attaining her dreams.
The father says Waithera has a strong will and this has helped her to accept her condition.
"My daughter is a dedicated person who knows what she wants to attain in life. I knew she was a strong person when she discouraged anyone who visited to stoop feeling sorry for her," says the father.
Read Also:A wave of misfortunes - The story of Rachel who lost her husband and a year later had her leg amputated
Mwaura was forced to renovate their house to enable Waithera move with ease. He removed the stair case and modified the bathroom.
He says though the daughter was aspiring to study medicine she is ready to undertake any other course.
Every month, the family spends between Sh6,000 and Sh8,000 to buy phantom drugs to relieve Waithera's limb pain.
"The brain still sends signal to the legs that are no longer in existence, this causes pain," says Mwaura.
Do most house chores
Waithera's mother Lucy Wanjiru says the incident changed her life. Before the accident, her daughter used to help her with house chores but now she seems to strain while working.
"My daughter used to clean, cook and wash clothes mostly during school holidays. Though she is an active person, I decided to do most chores myself for fear of straining her," says the mother.
"I tried to prevent Waithera from being hit, without success. I am happy that she recovered and remains strong," says Alfred Ngahu who survived the accident.
Ngahu vows to keep their friendship.
"Waithera is a true friend who has in the past encouraged and helped me improve in my academics. This is friendship I shall keep, and I too wish her well," he adds.