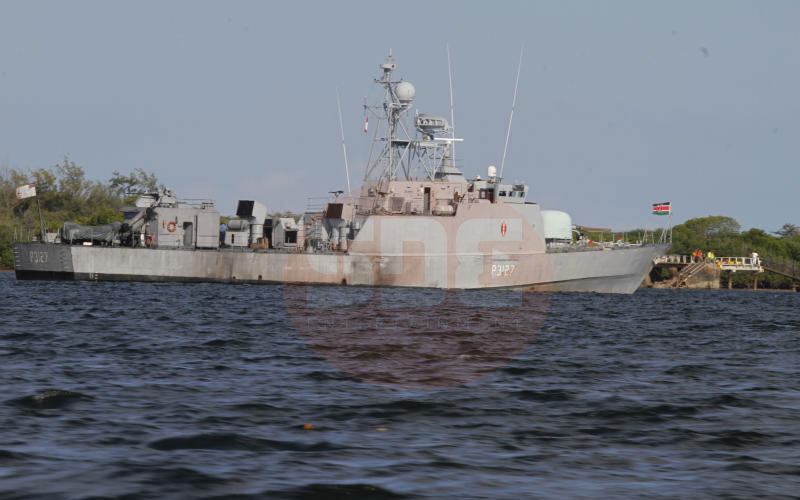 Four fishermen who were lost at sea have accused the Kenya Navy of refusing to rescue them nine days into the 17-day ordeal.
Speaking to Citizen TV, the boat's captain Malik Mbwana claimed that the navy officers they came across patrolling the Indian Ocean also denied them water or food.
Narrating the ordeal, Mbwana recalled that setting out on December 9, it seemed like any other normal day. However, matters went downhill after running into strong winds.
 "We came across strong winds and rain. Our fuel supply ran out in the middle of the ocean and we were disoriented. The next morning, we had no clue of where we were," he said.
READ ALSO: Mashujaa Day security: Horror as soldiers force Mombasa locals to swim in sewage
With no fresh water and food, the fishermen were forced to eat dried raw fish and drink salt water to survive.
Shattered hope
According to the captain, after around nine days drifting at sea, their hopes were raised after spotting a Kenya Navy vessel patrolling the deep seas.
However, their joy was short-lived.
"We requested them to give us some food or water but they declined," he claimed.
After 17 days in the Indian Ocean, the boat's crew found themselves near Ngomeni village at around 3 am.
The four were rushed to the Malindi Sub-County Hospital for medical attention and were later discharged and reunited with their families.
KOT React
Following the damning claims, Kenyans on Twitter took on Kenya Navy. While some
If Kenya Navy can't rescue someone drowning at likoni ferry, how do you expect them to rescue fishermen in deep sea — AHJ 7™ (@IamTonyki) December 27, 2019
Dear Kenya Navy,
The same fishermen you left stranded,go through hard times and struggles to pay taxes so that you can get allowances and salaries.
You have proved that all of you are a bunch of clowns.
As Kenyans,we are watching.
Maybe waiting a signal from ancestors.

Kenyans — Yuvinalis KE???????? (@KidWakanda) December 27, 2019
"Rais unaona hapo ni wanajeshi wa Navy wakionyesha umaarufu
Wao wa vita ya kulinda nchi wakiwa kwa maji, " — KING KAKA (@RabbitTheKing) December 27, 2019
This Kenya Navy is twisted. Even if the fishermen weren't Kenyan, they ought to have given help. Humanity first. — Mutiso_ke (@KeMutiso) December 26, 2019
Kenya Navy represents our work culture as a society.We only work when the boss is watching,we don't go an extra mile unless it has some benefits/publicity attached to it.We do our job only to be seen.Because hii kazi/kampuni si ya mama yetu, sivyo?Introspect & adjust accordingly — Patricia Nudi Orawo (@NudiOrawo) December 27, 2019
Leaving someone to die in the sea when you have the capacity to help a fellow Kenyan is a big disappointment. Inaumiza sana. Glory be to God for saving them. Mwenyezi Mungu haachi mja wake anayemuamini na kumtegemea. I would love to hear Kenya Navy's side of the story pic.twitter.com/r6XOQP0EaD — Mzazi Willy M. Tuva (@mzaziwillytuva) December 27, 2019
The navy is yet to respond to the allegstions.