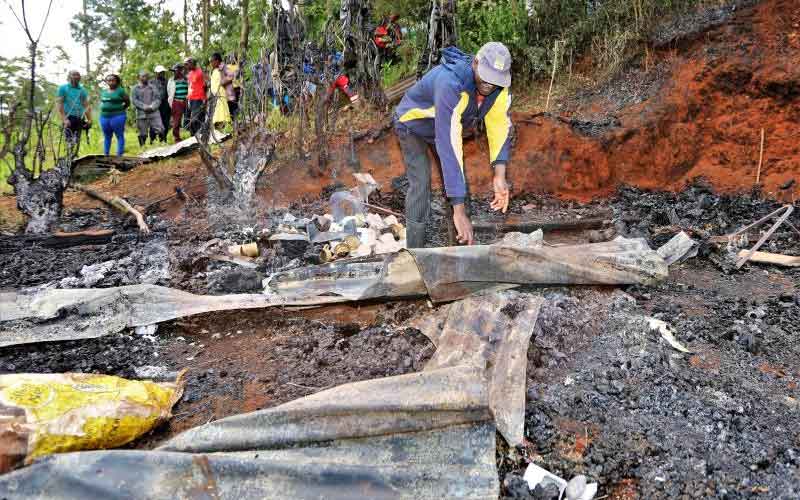 A family of five was killed in a fire that burnt their house on Christmas day at Gaikuyu Village in Mathira Constituency.
Charles Maina, 34, his wife Grace Gathoni, 28, their two children Simon Miano, four, and Kevin Mambo, seven, and the couple's niece Susan Gathoni, 13, all died in the night fire.
Neighbours made efforts to contain the fire that had engulfed the wooden three-bedroom house to save the family but in vain. It was reduced to ashes. The cause of the fire was still unclear by yesterday. Locals said the family had no disputes with anyone.
According to Jane Waceke, a neighbour, the family was peaceful and even shared a meal of chicken on Christmas.
"I had passed by and greeted them and the chicken was cooking. They invited me, but I also had some family members at home and promised to pass by later," Ms Waceke told The Standard.
Magutu Chief Samuel Mukeba said he learnt from a caller, at about midnight, that the house was on fire.
"I immediately alerted the fire brigade and headed to the home, but by the time I got there, the fire had already engulfed the house where the family was sleeping and they were burnt beyond recognition," he explained.
Waceke told The Standard in the evening Maina had been seen at Gaikuyu shopping centre for a couple of hours and returned home at around 10 pm.
"The bodies were found still in bed, with both parents and their four-year-old child on one bed, while the 13-year-old niece and seven-year-old boy were on another," Mukeba explained.
She said police officers from Karatina and Nyeri went to the scene, adding that they did not immediately establish what caused the fire.
"It is devastating to lose an entire family, so young and full of life under such circumstances on Christmas Day," said Magutu MCA Pauline Wanjira. The bodies were taken to Karatina Level 4 Hospital mortuary.