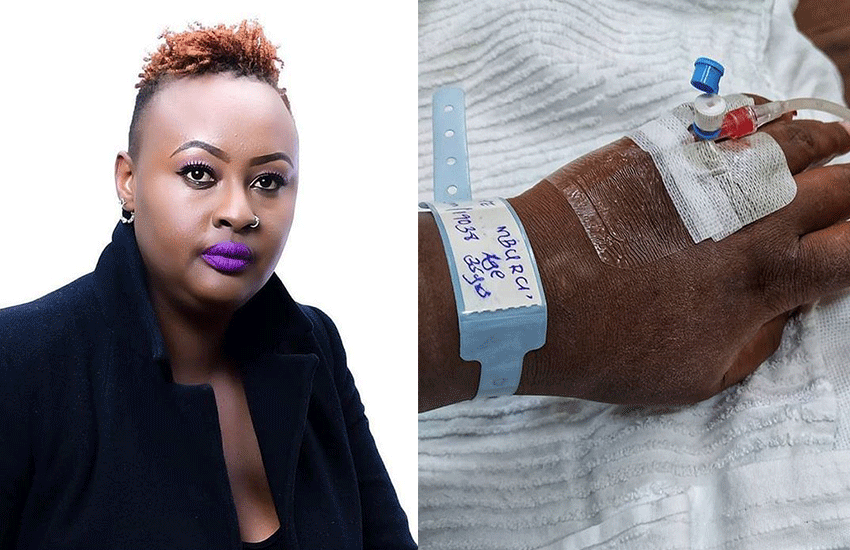 For actress 'Mama Baha', real name Wanjiku Mburu, Monday night was far from what she had ever experienced on the set of Machachari.
Posting on her social media platforms, Mburu revealed that it was an uneventful day of routine chores and evening exercises, but, turned out to be one that could have ended her life.
"Today, was an ordinary day. Spent the day indoors sewing my mat; you know pretty ordinary day. Later in the evening went for swimming and did my 100 laps then went home and prepared for the night, pyjamas and all," she stated.
At around 9 pm, however, Mburu explained that she was rattled by a 'weird' feeling on her stomach and decided to check into the hospital.
It turned out to be a critical condition.
"At around 9 pm I felt weird in my stomach and decided to go to the hospital for a quick check only to be admitted. Yaani life changes in an instant and thank God I listened to my body because according to the doctor I am critical," she added.
Captioning a photo of her hand in an intravenous drip, the actress noted that whilst she accepts the diagnosis, she owes her life to God.
"But whose report will they believe, I am going to believe the report of the Lord."
Fast forward to Wednesday, December 11, the actress is ready to be discharged:
"Thanks for the flowers and my I.G and FB fam for the wishes and prayers. Doing some much better and hopefully I get to go home tomorrow."