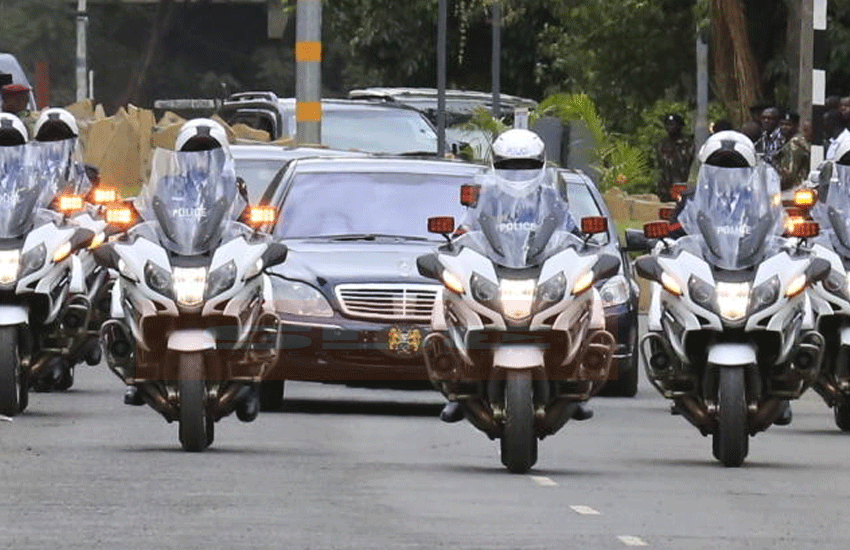 A man seeking to catch the attention of the president was yesterday arrested and locked up in a police cell.
Univalis Nyabuto was said to have been waiting on State House road with a placard in hand to catch President Uhuru Kenyatta's attention. Uhuru was returning from a State function at the Kenyatta International Convention Centre yesterday afternoon. 
Nyabuto needed the president's help to secure a job at the Kenya Defence Forces. Before he was arrested he had been waving a placard with the writings: "Your Excellency, kindly offer a chance to join the Defence forces. Am (sic) sorry for disrespecting your security".
As the presidential motorcade sped off towards State House, Nyabuto was not lucky enough to capture the president's attention. Instead, the president's security arrested the man.
He was shoved aside by the well-built Recce trained officers before he was bundled into a police Land Rover and driven to Kilimani police station yesterday at 2pm.
A police report from the police station indicated that Nyabuto was accused of blocking the presidential motorcade by displaying a placard.
Read Also:State House breaches - It didn't start with the JKUAT student
The placard has been presented to Kilimani police station as part of the exhibit police intend to produce in court when they finally press charges.
They intend to accuse Nyabuto of obstruction when he appears before a Nairobi court today.
Elsewhere, a 29-year-old man was yesterday arrested by police in Nairobi and Sh15 million in fake currency recovered from his house.
The man was said to have been in possession of the fake dollars at his house in Pangani estate. Police claim they recovered the money from the man's bedroom yesterday morning.
A report from Pangani police station to Police headquarters said two other men believed to be accomplices of the man were still being sought.
Police said they recovered 13 brown paper bags, which were stuffed with 1.2 million pieces of the fake money.