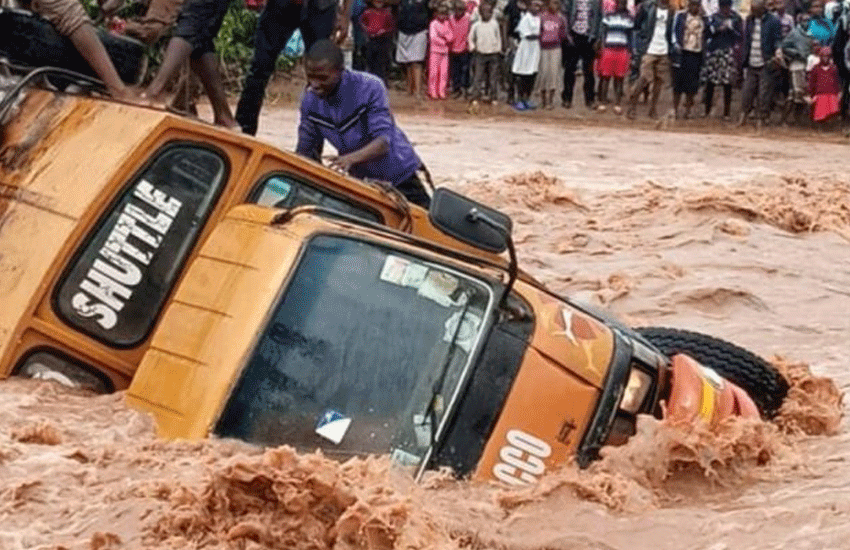 Forty-one students from Lukenya University, Mtito-Andei campus, escaped death narrowly yesterday when a matatu they were traveling in was swept by raging floods at River Kyamela, Makueni County.
The matatu was heading to Nairobi but it changed route to Emali-Itangini road due to a traffic snarl-up on the Mombasa-Nairobi highway.
Makueni police boss Joseph ole Naipeiyan said the matatu had 46 passengers on board.
"The driver had changed route due to the two accidents and was to join the highway at Machakos junction. When they arrived at that river, passengers pleaded with the driver not to dare the raging waters but he didn't heed their pleas," said Naipeiyan.
Read Also:Prepare for more rains, weatherman warns Kenyans
Residents moved fast to rescue the passengers as water levels continued to rise over the partly submerged vehicle.
Naipeiyan said some passengers were injured and they lost their belongings.
The traffic snarl-up on the Nairobi-Mombasa highway was caused by two separate accidents and stretched for several kilometres on both sides of the road.
In the first accident, a container blocked the busy highway at Malili following an accident that police reported was caused by heavy rains that reduced visibility.
The second accident involved a Crown Company bus headed to Nairobi at Sultan-Hamu, where several people were injured.
Read Also: Narrow escape for motorists after flash floods sweep away vehicles
Meanwhile, one person was stranded yesterday in River Mbumbuni, Mbooni East Sub-county, with efforts to rescue him proving futile.
The man was swept away by intense waters and thrown on a huge rock in the middle of the river. He had been trying to cross the river.
By the time of going to press yesterday, police and locals were still using ropes in attempts to rescue him.