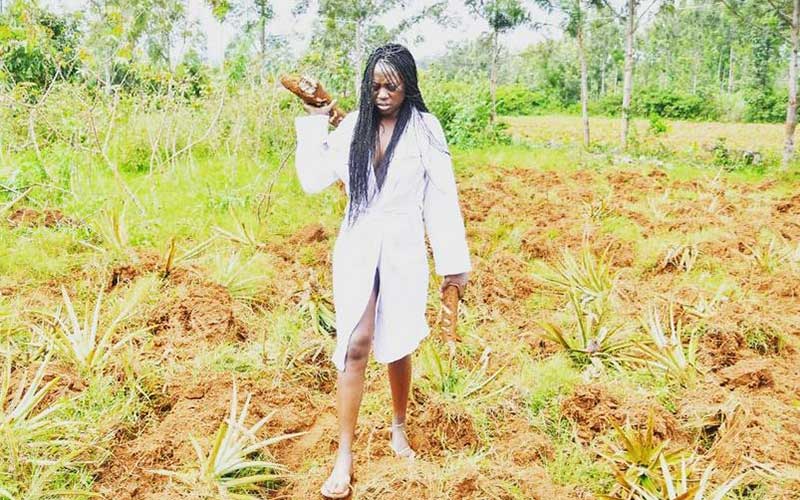 Popular Kenyan singer Akothee is back on social media barely a week after passing out mid-performance at the Luo Festival held in Kisumu.
In a series of posts, the Akothee Safaris CEO explained that she was experiencing persistent headaches and was advised by her doctor to undergo an MRI to get to the root cause.
Despite her throbbing headache, Akothee managed to get out of bed and had a walk around her garden where she harvested cassava before walking back into her mansion.
"You do know I can't stay in bed, I took a walk to the farm, to ignore the headache, shit this head is bursting, doctor recommends I do an MRI, nini imeingia kwa kichwa."
"Msinitukane pris, hata mimi nimeboeka, I miss you too despite my condition, I am not seeking for sympathy, I just want us to carry on with our daily lives here on shoshomidia, hiyo bed rest ignore, you know you are my friends ,sasa huku nyumbani nitasumbua nani? Went to collect Brayo And Kevo," she wrote.
Not accepting defeat
The Rollam crooner went on to rebuke the devil, adding that she will not give Satan a chance to disrupt her life.
"Satan listen, I can feel your pressure from far away, you are afraid of me but just know that even Musa Juma died knowing I am his number 1 fan, following him from Mombasa to Kisumu empty stomach with just one soda, from 7.00 PM to 7.00 am, waiting for matatu even after clubs are closed and I never embarrassed myself on stage with rubbish fatigue and fainting. This time, I just allowed you do your shakara, nkt!"
"You should have come in 2007 when I was the most hungry frustrated b****, listen, I know you, worry not, this are early signs of menopause, you will not win, trust me, don't bring for me diseases of the rich eg fatigue. Satan jajuogni (Satan you witch), I should bed rest as if I am a friend of sleep! Even sleeping alone is a punishment, saitan be iwinja (Satan did you hear me?)" she concluded.
Hospital
Before Akothee's Luo performance she had been admitted in hospital with fatigue after returning from Dubai.
This was however not the first time the singer was taken to hospital and put under compulsory bed rest.
In March 2018, the Lotto hitmaker was forced to cancel her scheduled performance at the One Africa Music Festival held in New York after she was abruptly admitted in hospital with fatigue.