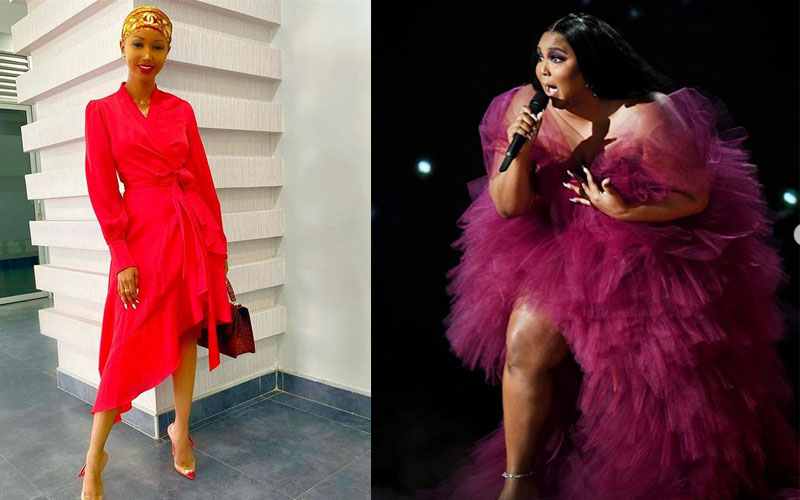 Kenyan socialite Huddah Monroe came under fire after she reposted a naked picture of American singer, Melissa Viviane Jefferson aka Lizzo on Instagram and dismissed her as obese.
Huddah's comments were not received too well by a section of plus-size women on social media who took to twitter and Instagram to condemn her for 'body shaming' the singer.
"I believe the shallow one here is you. Ain't no where she indicated that being skinny is staying healthy...She was talking about double standards. People think it's okay to call out skinny people but it suddenly turns to a crime against humanity to do the same to a fat person," wrote Ciru Mwangi on Twitter.
"As for Huddah Monroe, really! Skinny is healthy and fat is unhealthy.... I'm saddened with your level of mediocrity...small brain syndrome... I don't blame you...uza lipstick tafadhali," added another user.
Not sorry
The vocal Huddah Cosmetics CEO was openly unapologetic for her comment and cautioned people from glorifying unhealthy living.
"If you are fat you are fat if you are skinny you are skinny! Stop lying to yourselves
"It's criminal to call people fat but its okay to tell people they are skinny? Fat is unhealthy. So many skinny people are unhealthy too. I'm unfit, as skinny as I am, I call that spade a spade. Ati thick, are you porridge? Lets promote healthy living," wrote Huddah.
 An Instagram user, Missnduati warned her from commenting on people's body sizes as those she refers to as 'elephants' are the one that actually buy her cosmetic products.
"Us elephants are the ones using your products by the way! Wooooow did you even think before you wrote this?" she commented.
Huddah wasn't having it and dared 'fat' people to refrain from buying her products since she doesn't use her cosmetic line to sustain herself.
"People love being lied to. I'm not your liar. And most of you will still buy the healthy product we are about to launch low key coz you are not okay with how you look that's why you are so mad and offended at my comments. Otherwise you should be happy.
"And stop thinking coz I post cosmetics that's my daily bread! That's for your nosy asses to see online. I have many businesses. If cosmetics was feeding me and buying me houses, it would be so affordable! I barely make any profits out of it cozz I wanna make skinny and fat women look good. Si lazima ununue," she concluded.