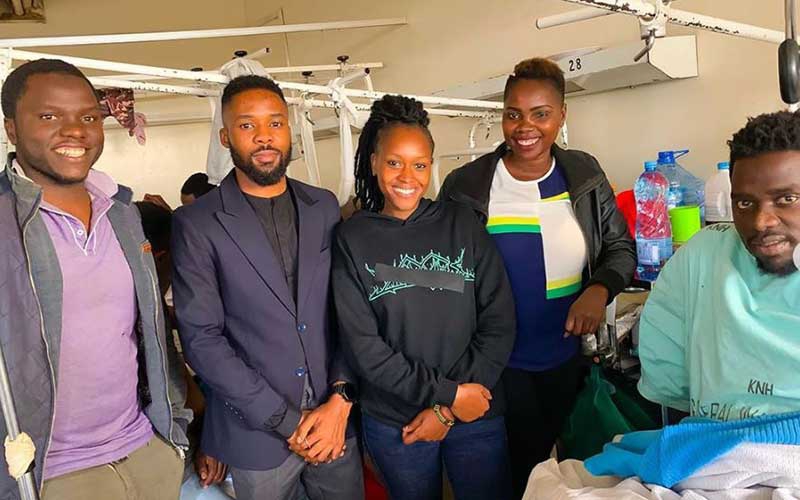 After a week of silence, Kenyan singer Otile Brown has finally opened up on the details of the accident he was in that involved a boda boda with two passengers.
The Chaguo La Moyo crooner is reportedly said to have tried parking his Mercedes Benz outside a club in Kilimani when he was blocked by another car and opted to drive over the pavement, unfortunately knocking down the two bodaboda riders.
Although Otile escaped unhurt, it was assumed that he and his team had taken the victims to hospital and dumped them there with no care.
Paid bill
"To my dear fans, family, friends and supporters, my team and I would like to officially acknowledge the accident I had on Wednesday the 20th of November 2019 around Yaya Centre involving my car with a boda boda carrying 2 passengers. My team and I took the injured persons to the hospital and made sure they received the needed necessary treatment and we catered for the resulting bills."
According to Otile, the two passengers have already been discharged while the rider, Yassin Maina Richard is still admitted for further treatment.
"Two people had sustained minor injuries and were released on the same night after treatment while the rider of the boda boda Yassin Maina Richard had to be admitted to the hospital for further check up. I have kept constant communication with Yassin's family and to enable him resume earning a living for his family I have procured a new motorbike for him.
"While accidents are unavoidable, we must remain human. I would like to thank all those who called to check on me and continue praying for Yassin's recovery. God bless you all," he concluded.
Of the two passengers involved in the accident was DJ Daddy Ramosh who took to twitter to accuse Otile Brown of trying to kill him and thanked God for enabling him to see another day.
"Dear God, from the bottom of my heart, I want to thank you for being there for me n ever living me, and always loving me… @OtileBrownKenya jaribu next time attempting to kill me usidhani mungu hulalala. Wacha vile ulikua unasema ati ni mambo madogo haya killing us," tweeted the DJ.