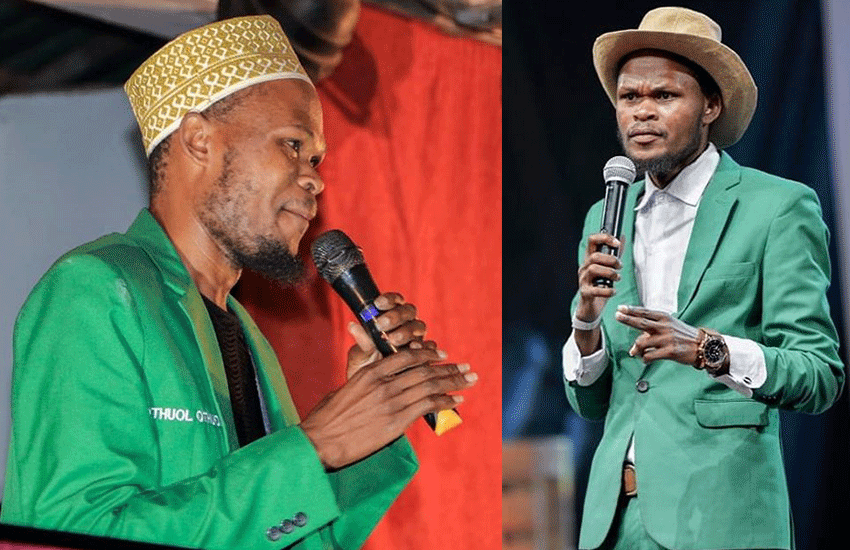 For some time now Churchill Show standup comedian Othuol Othuol has kept off the ever roving public eye. A move that saw many of his worried fans raise concerns over his wellbeing.
However, in an interview with Tuko, Othuol narrated that he took some time off comedy after he was diagnosed with Tuberculosis (TB) earlier this year. 
Visibly feeble, Othuol told the outlet that the disease took a toll on his body and rendered him weak but he is now healed and on the path to full recovery.
Diagnosis
Othuol said he fell ill suddenly and was taken to the hospital by his wife and fellow comedians; Tumbili, Karis and Butita where he was told he had TB.
"I told my friend Tumbili about how I was feeling and together with my wife, Karis and Butita, they took me to the hospital where I was diagnosed with TB," he said.
Read Also:I was famous but broke – Eric Omondi opens lid on depression in comedy
The comedian revealed that he put on medication for six months and in October was tested and found to be TB free.
"After diagnosis, the journey started. I took medicine for about six to seven months and I finished in October, I was tested and they found out I was healed. So, right now I am fine but I am weak I cannot stand for long or walk for a long distance, I cannot perform for the live audience for now," he continued.
Churchill foots the bill
Othuol explained that he is forever grateful to his mentor Daniel Ndambuki alias Churchill and the Laugh industry for footing his bills and his fans and friends for sending him money for food.
"Some fans used to send me money on Mpesa, some would even say they had sent the money for my lunch."
"Churchill took me to the hospital, and I also appreciate the Laugh Industry, they paid the hospital bills. Churchill, may God bless you abundantly," he said.
Read Also:'Thou shall not kill' – Chipukeezy's hard hitting post following Mswahili's death
He went on to urge his fellow comedians to save as much as they can because tomorrow is not guaranteed.
New person
He noted that he sunk into alcoholism before the diagnosis but vowed that he would not revert to his old lifestyle as he is a changed person now.
"I used to drink, I would drink after selling my TV, gas and anything of value I had, but that is in the past now," he concluded.