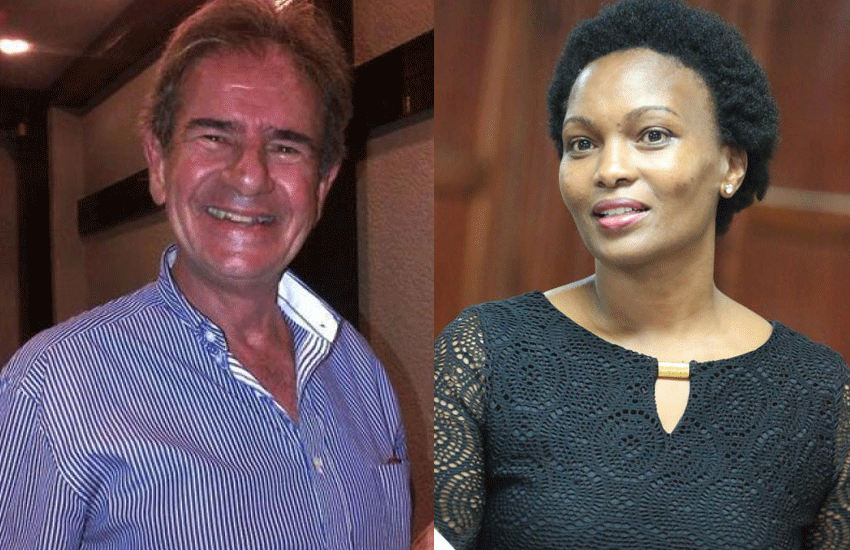 The widow of the late Dutch billionaire Tob Cohen and her co-accused have been charged afresh with his murder.
Sarah Wairimu and Peter Karanja were charged after the prosecution made a successful application to have the two murder cases facing them consolidated.
"The matters should be consolidated because the offences in the two files were committed on similar dates and the victim is the same," said prosecutor Catherine Mwaniki.
The court yesterday heard that the two murdered Cohen between July 19 and 20, this year.
They pleaded not guilty to the amended charges before High Court Judge Stella Mutuku and were released on a cash bail of Sh2 million each.
But Mr Karanja was re-arrested soon after his release and taken to Naivasha Law Courts, where he is expected to face robbery with violence charges.
Karanja and two other suspects are facing the robbery charges after allegedly raiding the home of Gilgil MP Martha Wangari, where they reportedly beat and robbed her two security guards.
Read Also: How MP's ex-husband helped plot Dutch billionaire Tob Cohen's murder
According to the charge sheet, the three are accused that on November 9, at Teacher's Estate in Gilgil and while armed with crude weapons, they robbed Eric Nyongesa and John Kamau of their mobile phones and cash.
During the hearing of the case, lawyer FI Mburu, who is representing Karanja, asked the court for more time to look for his client so they can prepare his defence.
Mburu told the court Karanja was in Nairobi where he had reported to DCI office in relation to the murder charges he is currently facing.
But lawyer George Kimani, who was holding brief for the MP and the guards, opposed the application to postpone the plea taking.
He said the suspects' defence had failed to produce evidence that Karanja was at the DCI office.
Read Also: Five lessons university students can learn from Tob Cohen's story
Kimani told court the life of the MP and her property were in great danger and urged it to take decisive action.
The court later issued a warrant of arrest against Karanja and one of his co-accused and released the third suspect on a Sh500,000 bond with a surety of same amount.
The case will be mentioned on November 25.
In Nairobi, prosecutor Mwaniki told court the arrest warrant in circulation had nothing to do with the murder case before Justice Mutuku. Meanwhile, lawyer Philip Murgor, who is acting for Wairimu, said they had filed an application over properties belonging to her.
The application contains a letter to the Director of Criminal Investigations. Murgor is seeking phone data records of DCI George Kinoti, Cohen and 21 other people, including senior police officers and prosecutors, involved with Cohen's murder trial.