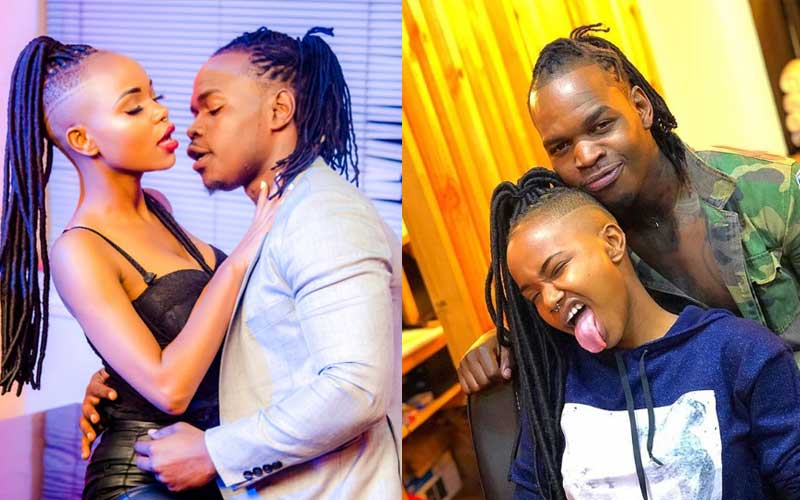 Tanzanian rapper Rosary Robert better known as Rosa Ree has claimed that she featured in Timmy Tdat's Vitamin U video without knowledge that that it would land her in trouble.
Speaking before the Tanzania Film Board where she was summoned to explain her actions, the 24-year-old musician claimed that she was not aware she had crossed a line.
"Alikiri kwamba ni kosa amefanya, lakini alisema kwamba hakujua kwamba ni kosa ama alipaswa kutuma video kwanza," acting executive secretary of Tanzania Film Board, Dr. Kiagho Kilonzo, told Bongo 5.
"Tulimuelimisha kwanza kiutaratibu kwamba video yeyote inapaswa kupitia kwenye hii bodi… Kwa hivyo akakiri kwamba ameelewa utaratibu huo ambao alikua haujui," Dr. Kilonzo continued.
Born in Moshi Tanzania and studied in Kenya, Rosa Ree agreed to become a goodwill ambassador after the board gave her a strong warning.
"Alikubali kwamba atakuwa balozi na kwanza ataomba msamaha watanzania waliohisi amewakosea na akuwe balozi wa kuwaambia wengine namna ya kucomply na sharia zetu na pia kuwaelimisha wengine ambao hawajui," he continued.
Minutes later, she took to social media to apologize stating that she had learnt a lot from the discussion they had and won't repeat the mistake again.
"Radhi. Ningependa kuomba radhi kwa waliokwazwa na ile video iliyosambaa mtandaoni. Leo hii nimefurahi kukutana na Bodi ya Filamu Tanzania ???????? @tanzania_film_board na wamenielimisha mengi kuhusiana na sanaa na kanuni zake. Tutaendelea kufanya kazi pamoja ili kuweza kuifikisha sanaa ya Tanzania mbali Zaidi. From now kazi zangu zitakuwa up to standards," wrote Rosa Ree.
Timmy on the other hand seems to have deactivated his Instagram account as a spot check by SDE revealed that the singer's account is unavailable.
"The link you followed may be broken, or the page may have been removed," a message from Instagram read. Video pulled from Youtube
The Video in question has already been pulled down from YouTube.
Kenya Film and Classification Board (KFCB) CEO Ezekiel Mutua had reached out to YouTube to only make the "Vitami U" and 'Tarimbo" video by Ethic Entertainment available to people who don't use the restricted mode on YouTube.
"Google has confirmed to us that the two videos 'Tarimbo' by Ethic and 'Vitamin U' by Timmy Tdat are not available on YouTube to users with restricted mode turned on. Google has facilitated restriction for kids as long as the restriction mechanism is activated. The board shall be vigilant to ensure this kind unpalatable content is not accessed by children," Mutua said.