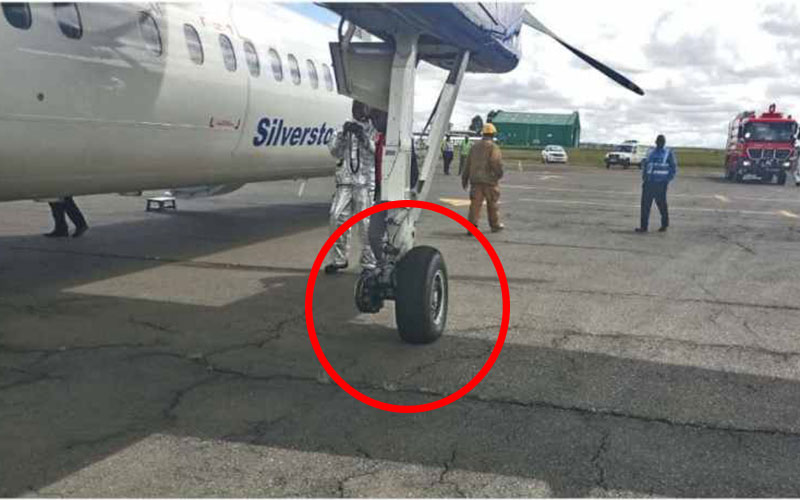 A Silverstone airplane from Lodwar to Nairobi was today forced to make an emergency landing in Eldoret.
This is after the aircraft-registered 5Y-NOP Dash 8300, lost its left wheel during the take-off in Lodwar. The plane was forced to divert to Eldoret International Airport for an emergency landing.
"We would like to confirm that earlier today our flight Dash 8 – 300 from Lodwar to Nairobi experienced an incident during takeoff and as a result, lost the number 3 wheel assembly," a statement from the company read.
"Silverstone Air has activated its contingency plans and the customers affected were rebooked and have since landed safely in Nairobi," added the airline.
This comes less than four weeks after another plane operated by Silverstone Air crashed on the runway at Wilson Airport in Nairobi.
The Lamu-bound plane had five crew members and 50 passengers on board, two of whom were injured during the crash.
Today's incident caused mixed recations from Kenyans on Twitter (KOT). While some urged for the company to be given a break, a huge percentage weren't pleased:
Silverstone are just having a bad month. We shouldn't kill the business because of a few issues. Many families rely on them.

— Xtian Dela™ (@xtiandela) October 28, 2019
And in all these Silverstone stories, we should not be ignorant of the fact that a Kenyan pilot has safely landed an aircraft that lost a tyre mid air. That is a remarkable achievement. — Ahmed Mohamed ((ASMALi)) (@Asmali77) October 28, 2019
The Government of Kenya is patiently waiting for a Silverstone Aviation plane to kill several Kenyans before taking action. Patience pays here in Kenya. In the meantime, stop noising. Just don't board the damn plane. ^DoS — Nelson Havi (@NelsonHavi) October 28, 2019
Silverstone plane lost a wheel while taking off from Lodwar and landed in Eldoret with one wheel. They tried to cover it up. But wapi! Hii ni kama zile matatu za Eastleagh. When you board silverstone ensure you always have a good talk with your family. Better still dont board! pic.twitter.com/rzLuuXG0VV — Lord Abraham Mutai (@ItsMutai) October 28, 2019
Admin wa social media pages za Silverstone airline at the moment. pic.twitter.com/QZ3bjOaHwy — Kiptoo Emmanuel???????? (@kiptoomanuu) October 28, 2019
This is very disturbing. I hope and trust someone from the ministry of transport, Kenya Civil Aviation Authority and all charged with the responsibility of passengers safety are following the events concerning Silverstone flights. Are we waiting for a disaster to act?@TransportKE — Philip Marube (@marube_philip) October 28, 2019