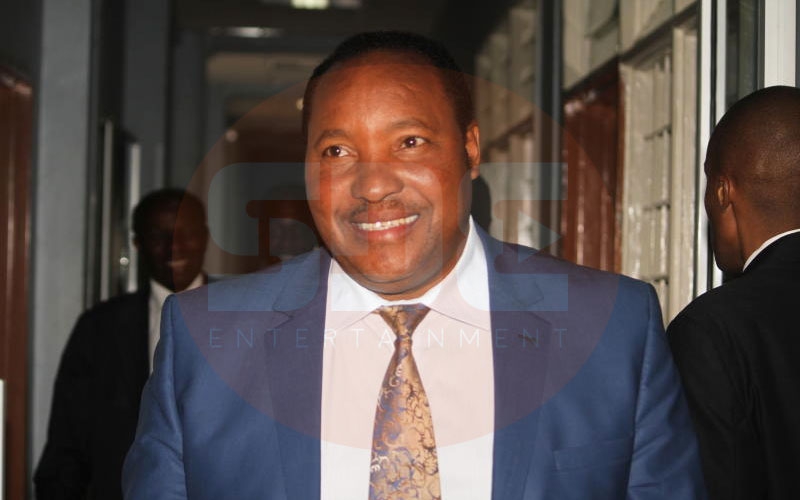 Kiambu Governor Ferdinand Waititu has denied claims that he was kicked out of the VIP podium in Mombasa during the Mashujaa Day celebrations on Sunday.
Governor Waititu said he had shown up for the celebrations at Mama Ngina drive without an invitation card and consequently found no seat reserved for him.
This, he said, created a "small" confusion.
"What caused the confusion was that I did not have an invitation card for Mashujaa day. I thought it was just the normal Mashujaa Day Celebrations where you can show up uninvited, but I was wrong," said Waititu.
"When I arrived at the podium I realised that no seat had been reserved for me, so I decided to leave," Waititu told The Standard.
No one to consult
The governor said he arrived too early for the function, and as such, there was no one to consult the day's sitting arrangements, prompting him to go back to his hotel not far away from the venue.
Waititu denied reports that President Uhuru Kenyatta was avoiding him due to corruption cases he is facing before court.
He maintained that there is no bad blood between him and the President.
"Those saying that I was chased away so as not to be seen close to the President are people intent on portraying me in bad light. I am not a native of Mombasa. The sun and the heat was too much for me and so I decided to follow the proceedings from my room," he said.
Waititu had arrived before other governors for the event and taken a seat reserved for Mombasa Woman Representative Asha Hussein.
Video footage seen by The Standard shows some of the event's organisers walk to where the governor was sitting, engage him in a brief chat after which he received a call on his phone.
It could not be verified who he spoke to, but immediately after, Waititu stood up, walked out of the dais, and chatted with several security officials as he walked out of the venue.