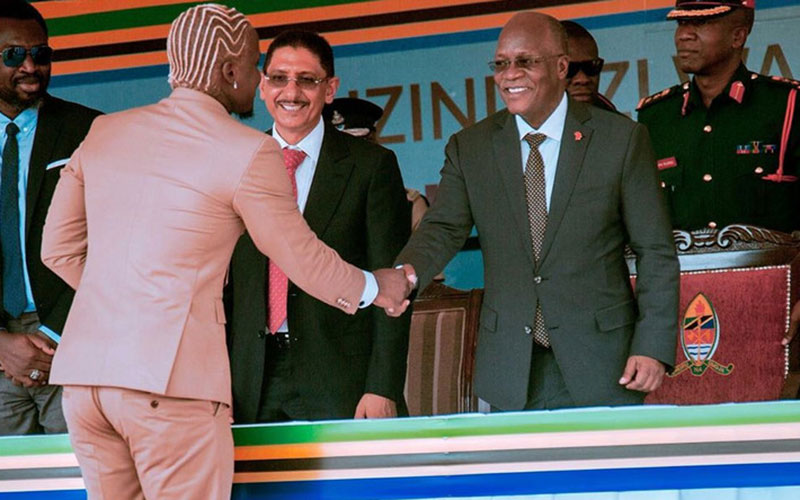 Harmonize has been urged by Tanzanian President John Pombe Magufuli to try his hand in politics.
Speaking during a public gathering, President Magufuli called out Harmonize and congratulated him on his work, adding that his desire would be for Harmonize to vie for a seat come 2020 elections.
"Nampongeza sana Harmonize. Sijui anatoka Jimbo gani, anatoka jimbo gani huyu? Tandahimba? Mbunge wa kule ni nani? Ningetamani kweli Harmonize aende akagombee kule awe mbunge wa Tandahimba (I congratulate Harmonize. I don't know which constituency he hails from. Tandahimba? Who's the area MP? I would really like Harmonize to vie for the Tandahimba MP seat)," said Magufuli.
Magufuli's request comes a few months after residents of Mtwara, Harmonize's hometown called upon him to represent them in parliament.
"Amesababisha hata watu kujua kuna Kijiji cha Mahuta, tunamuomba agombee hata ubunge tunaamini atatuwakilisha vizuri na kutusemea shida zetu za hapa kijijini (He's made our region popular. We would like him to vie for MP as we believe he will represent us well and highlight our problems)," a resident said.
The former WCB artist responded to his peoples' request by clarifying that he was not interested in venturing into politics.
"Kifupi sifikirii kabisa kujiingiza kwenye siasa badala yake ninafikiria zaidi kuupeleka huu muziki wetu mbali sana ili uweze kuwa mkubwa zaidi (I'm not thinking of joining politics. Instead, I want to take our music further)" he said.