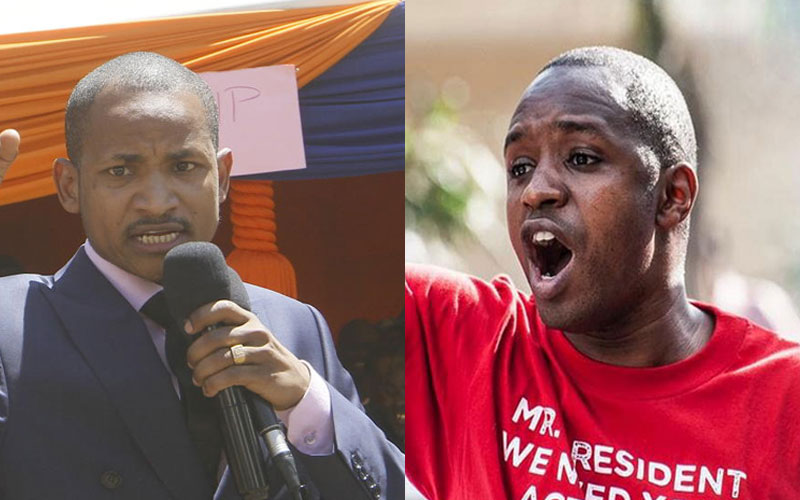 Yesterday, photojournalist, politician and activist Boniface Mwangi shared a video of himself blocking a VIP motorcade.
In the video, Mwangi is seen denying the right of way to a Toyota V8 lead car with blaring sirens on the busy Nairobi streets.
In the video, a plain-clothed police officer seated beside the driver with a walkie talkie in his hand is seen banging on Mwangi's car, urging him to clear the way like everyone.
"A police officer in KCH 995E insulted me because l refused to be bullied, he was the lead car for KCP 755S. Please, record, post & shame VIP bullies every day," he captioned the video.
Raila's motorcade?
However, in a quick rejoinder, Embakasi East MP Paul Ongili alias Babu Owino pointed out that it was Raila's motorcade and asked Mwangi to give him the way.
READ ALSO: Boniface Mwangi refuses to give way to VIP motorcade driving on wrong side of road
''This is Raila, omera you must clear way for him as a sign of respect. Stop fighting unnecessary wars,'' wrote Babu Owino.
This is not the first time the former Starehe parliamentary seat aspirant has blocked 'entitled' civil servants.
In June, he blocked another motorcade noting that he only gives way to ambulances and fire engines.
"I only give way to ambulances and fire engines. I block entitled civil servants and politicians who love to use sirens to avoid traffic. As a taxpayer, l expect the people in these big cars to follow the law and work towards solving the perennial traffic jams," stated Mwangi.
READ ALSO:
A month prior to the June incident, Inspector General of the Police Hillary Mutyambai released an order that would see certain individuals enjoy VIP treatment along major roads and highways in the country.
"In light of streamlining traffic flow in major cities, I hereby direct guidelines concerning entitlement and privileges on the clearance of vehicles for VIP on roads and highways. Any other vehicle will require authority by Traffic Officer in charge in certain regions on special cases," read a statement by Mutyambai.
Who will protect Kenyans from this overentitled VIPs and their rogue bodyguards? A police officer in KCH 995E insulted me because l refused to be bullied, he was the lead car for KCP 755S. Please record, post & shame VIP bullies everyday @NPSOfficial_KE @IG_NPS @Ma3Route @IPOA_KE pic.twitter.com/XjTBpVzq3S — Boniface Mwangi (@bonifacemwangi) October 14, 2019