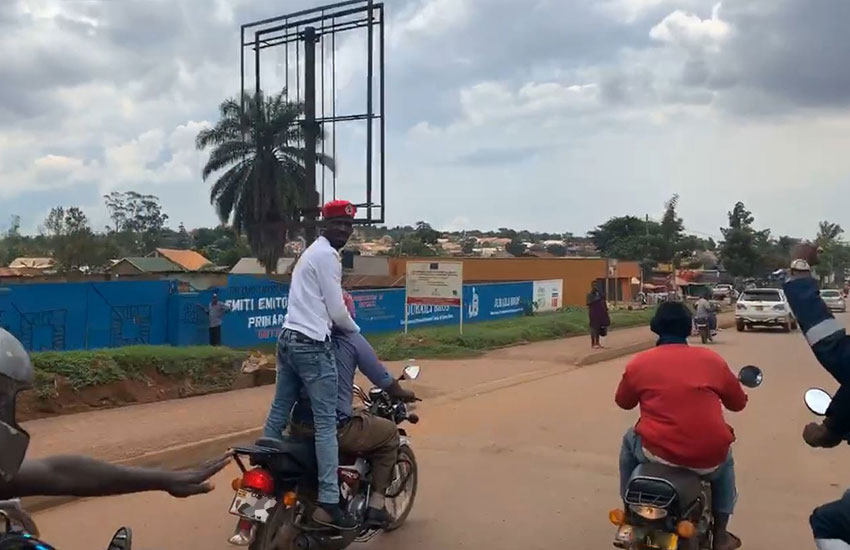 Ugandan pop star turned politician Robert Kyagulanyi Ssentamu alias Bobi Wine evaded arrest on Wednesday, October 9, by escaping on a motorbike.
The Kyaddondo East MP dramatically escaped from a dragnet laid by security forces who had reportedly barricaded his home by getting on a bike ridden by one of his supporters who had gotten wind of his impending arrest.
According to a video shared online, hundreds of supporters swarmed around the 2021 presidential hopeful as he made a run for the parked Boda Boda to deafening cheers.
"Busabala Final destination," captioned the red beret clad singer, who, according to some pundits, pose a serious threat to the re-election of President Yoweri Kaguta Museveni in 2021. President Museveni is expected to, again, run for the top job having taken the reins of power in 1986 under the National Resistance Movement (NRM) banner.
Bobi Wine, in a series of tweets earlier that day, claimed that police and military officers barricaded his home in a bid to prevent him from performing at a much-anticipated concert in Busabala.
"Since 11:00 pm, police and military surrounded my home & my private property, One Love Beach Busabala, in yet another move to place me under house arrest & block our Independence Day music concert. 156th concert so far! For singing truth to power, I can't perform in my own country," he tweeted.
#UgandaAt57 What does freedom mean to you? #Courage https://t.co/3drEAfJ74y — Cynthia Ayeza-Busulwa (@828Princess) October 9, 2019