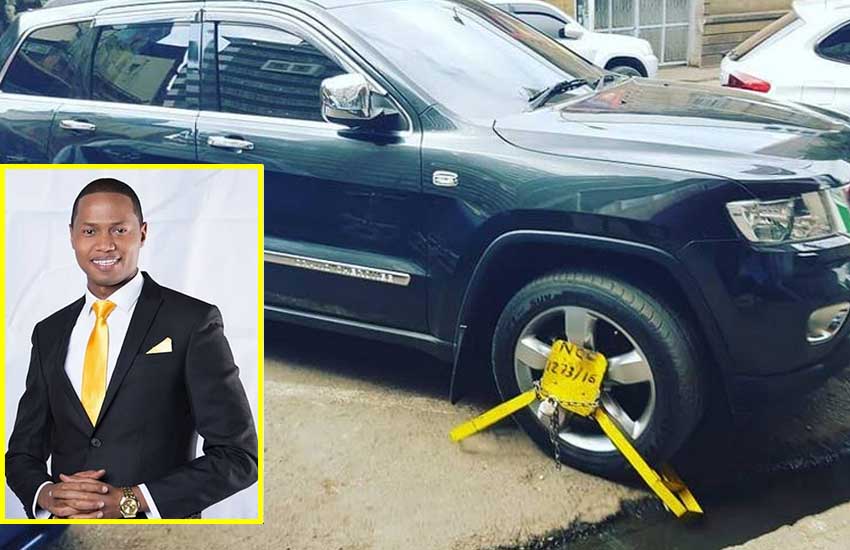 NTV Swahili news anchor Salim Swaleh was on Wednesday, August 22, not amused after city askaris clamped his Grand Cherokee Jeep.
Taking to Instagram to lament, the former Citizen TV news anchor threatened to replace the clamped tire with a spare one and drive off.
"Kanjo...Nitafungua tyre niweke spare na nibebe hii na hiki kidude chenu," Swaleh captioned the photo of his sleek car in an undisclosed parking slot in the city.
A move which elicited mixed reactions as netizens disected his case with some suggesting that he should pay 'his dues' on time to avoid such "aibu ndogo ndogo."
One user by the name Tony Watima wrote; "Kaka lipa kodi wacha vitisho," while Nuru Said 96 stated, "wewe ni kioo cha jamii fanya kama kweli."
However, in response, the celebrated anchor pointed out that he had paid for the parking and accused the city askari's system of being faulty.
"Nilikuwa nimelipa...system yao ndo shida," he replied to one of the comments.
His colleague Mark Masai was not left behind humorously summarised it all.
"Why have they done that to my car?" Stated Masai, to which Salim responded, "Wee acha tu bana we will move to Supreme Court."
Salim Swaleh joined NTV last year after calling it quits at Citizen TV.
Taking up the role of senior news anchor, news producer, African affairs expert and researcher, Swaleh explained, at the time, that is exit was due to personal reasons.
"Yes, it is true I left Citizen TV a week ago. I resigned for personal reasons not because of what I am reading online. My salary and the little I get from my businesses is enough money for me. I am a professional journalist who has worked with international media entities," Swaleh was quoted by a local outlet saying.