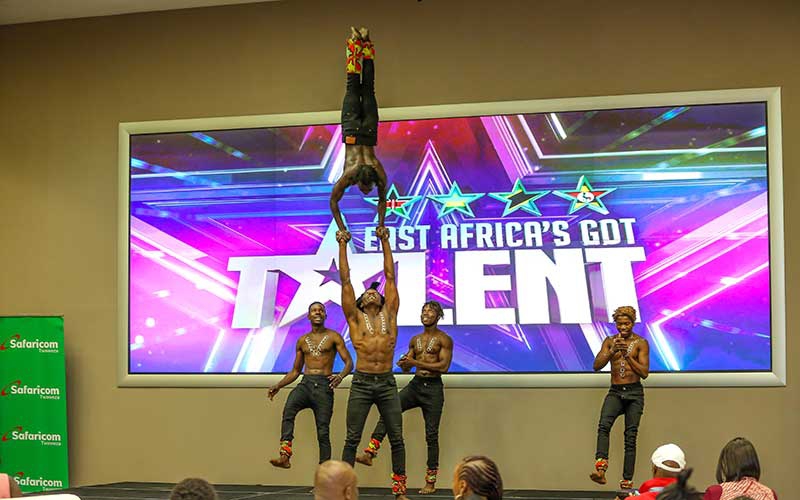 East Africa Got Talent (EAGT), which premiered on 4 August 2019 is taking the performance and entertainment scene in the region by storm.
During the third episode of the show which seeks to showcase talent from Kenya, Tanzania, Uganda and Rwanda, contestants brought their A-game, blowing the crowd and judges away.
The judges, Jeff Koinange, Vanessa Mdee, Makeda and Gaetano Kagwa will sure have a hard time as the competition gets stiffer and the contestants tougher.
Here is a list of some of the best acts from the third episode of the talent show, which is sponsored by Safaricom:
Elizabeth Rafael Mataba- Tanzania
The talented Tanzanian gymnast and acrobatic dancer had a seamless performance that was so satisfying, she earned a yes from all the four judges.
As Vanessa Mdee put it, Elizabeth's performance was "effortless, artistic poetry in motion."
Coming from a poor background, Elizabeth said that she had to fight in order to pursue what she's passionate about- acrobatics.
Tetemesha Dance crew- Kenya
The super energetic six-man dance crew from Kenya had a well-choreographed dance routine that got the judges and a section of the audience moving along to the rhythm of the music with them.
"Very original, daring, I loved it," Makeda commented.
Jua Kali Drummers- Kenya
Jua Kali Drummers is a group of reformed street children-turned drummers.
According to their instructor, the materials they use to perform are recycled which they had collected and sold to make a living but decided to turn them into musical instruments.
The synchronized beats of their 'drums' filled the hall, earning cheers and applause from the audience.
Asked what they would do if they won EAGT by Jeff Koinange, the drummers said their aim is to get more children off the streets and have them join their group.
"It was vibrant, it was fun. The fact that you used recycled material…I see a lot of love and I feel the love," Vanessa Mdee said.
Bless Spy Dance Crew- Uganda
Adding to the acts that performed a dance, the talented Bless Spy Dance Crew took dancing to a whole new level.
The group which consists of five young gentlemen danced to a mix of pop, hip hop and Lingala, which the judges fell in love with.
African Snake girl- Rwanda
Contortionist Evelyn from Rwanda popularly known as African snake girl left the judges with mouths wide open her unbelievable contortionist performance.
"I hope you could feel yourself sitting on your own head" Makeda joked.
She came on stage in a tiny box which she wiggled her way out of and kept twisting herself into different forms that left the audience and judges gasping.
Catch the next episode of EAGT on Sunday, at 8 pm on Citizen TV.
If you missed out on the action-packed performances, you can still watch all the episodes' highlights on YouTube for free!
How? Simply reach your daily Stori Ibambe target to enjoy Safaricom's 200MB free YouTube bundles.
What's more? You get 200% airtime bonus.
To check your target, simply dial *460#