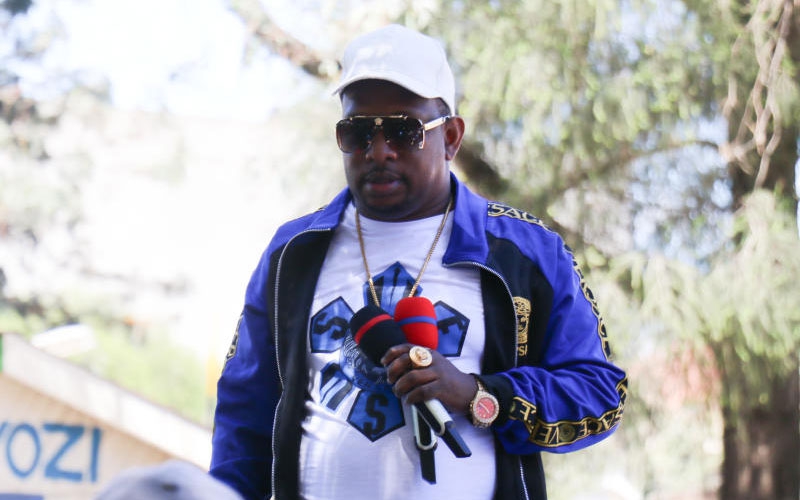 Three governors and 13 MPs were among prominent persons accused of abandoning children sired in secret love affairs, following an online petition launched by Nairobi Governor Mike Sonko.
Mr Sonko yesterday stirred controversy when he unveiled a public platform, urging women who had secret children with senior public figures to come forward and name and shame the alleged culprits.
The governor later claimed to have received details against three governors, eight members of the National Assembly and five senators.
Speaking in Nakuru yesterday, and in a statement in a Facebook post, Sonko alleged that politicians had developed a "very bad habit of courting young girls and bolting after putting them in the family way".
He vowed to expose the leaders and gave out his two personal mobile phone numbers, asking women with children neglected by leaders to send the "full names, positions of the VIPs and any photos or videos of those happy moments".
"In fact, from today, all the great women of this country, if you know there is an MP, senator, governor, civil servant or businessman who's put you in the family way and bolted, send your details to 0722886600/0739555555 so that we can expose him and force a DNA while he's still alive," said Sonko.
Yesterday, Sonko's Communications Director Elkana Jacob claimed they had received accusations against 16 elected leaders.
"We are receiving massive feedback in form of calls and messages. So far, the most mentioned leaders are Members of Parliament, followed by senators and governors," he said, adding that Sonko would go public with the findings today.
Mr Elkana also claimed that they had received messages from men complaining about female leaders, who they accused of using and later dumping them.
"We were surprised to receive feedback from men. Some are businessmen saying the female leaders seduce them, use and dump them as soon as they achieve their agenda."
Hornet's nest
Sonko's move comes after he stirred up a hornet's nest last Thursday during Kibra MP Ken Okoth's memorial service when he revealed details of Okoth's affair with nominated Nairobi MCA Anne Thumbi. Ms Thumbi said she bore Okoth a son and later went to court to stop the MP's burial. Samples to have a DNA test done to settle the paternity claim were issued by a Nairobi court.
Sonko's revelations at Okoth's memorial service elicited mixed reactions. Speaking yesterday in Nakuru, where he had gone for the National Music Festival, the governor did not spare his critics.
He urged politicians to use condoms or be faithful to their wives, and vowed to defend women who conceived after sleeping with leaders.
"We politicians have a very bad habit. We sleep around with young girls and when they get pregnant, we start calling them slay queens.
"When we keep quiet, who will defend the widows, single mothers, orphans and divorcees?" Sonko asked.
His Facebook post generated over 17,000 comments and over 16,000 likes, with most Kenyans supporting his effort. It also opened an avenue for people to name 'deadbeat' dads who are politicians.
A user, who asked not to be named, promised to send details of a politician from north eastern Kenya who it was claimed had sired a child with her neighbour and was threatening the mistress.
"Kuna MP mmoja from North Eastern ako na number two (mistress) in my neighbourhood here in Nairobi. He is threatening the lady... and mtoto ni wake. I will send you the details ASAP."
Abdulrahim Adidi Wasafi also supported Sonko'smove.
"People should learn to take responsibilities... I support you Sonko; enough is enough... Who will speak for single mothers? Many people don't know what these single mothers go through raising kids alone after someone somewhere refuses to take up their responsibility," Abdulrahim posted.
Lydia Oginga posted: "We are tired of drama during deaths. Men should recognise their kids publicly so we avoid such kind of embarrassments."
Isaac Marigu cheekily asked Sonko to name his second wife. At Okoth's memorial, the governor also revealed he has two wives.
"Sonko, we want you to declare your second wife today. You just said you have two wives, but you never mentioned the name of the second wife."
Other users, however, warned that lives were being put at risk by exposing the politicians.