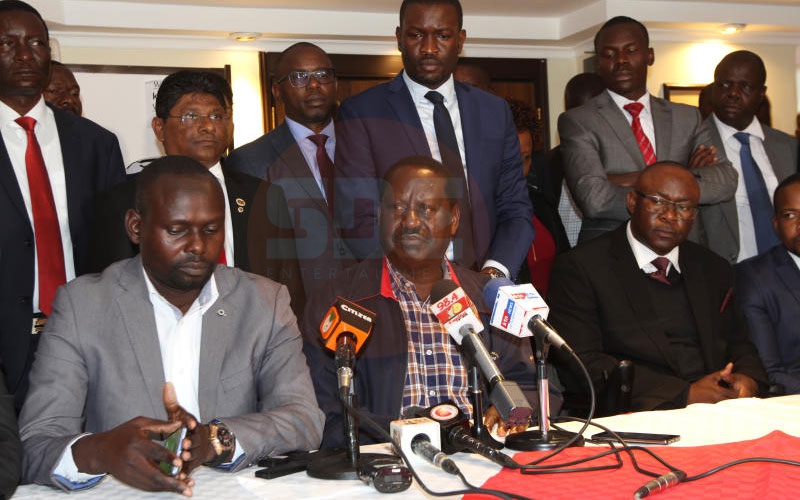 ODM leader Raila Odinga yesterday hinted that the late Kibra MP Ken Okoth could be cremated while giving details of funeral arrangements.
Raila who was speaking yesterday in Nairobi accompanied by the late MP's brothers, Imran, Bobby and Jeff Okoth, said the family will decide on the final rites.
"After the funeral service and viewing of the body at Got Rateng Secondary School, Ken will be given to the family to do the rest, just as we did with Kenneth Matiba," said Odinga.
The funeral service and viewing of the body at Got Rateng Secondary School in Homa Bay County will take place on Saturday.
Mr Matiba, considered to be a multiparty struggle hero, was cremated at the Lang'ata Crematorium in April last year.
Odinga and Okoth's family members did not field questions from journalists to clarify whether Okoth - who died of cancer last week - will be cremated or buried.
Mother unwell
The late MP's mother was unwell and could not attend the briefing. Yesterday, a funeral service was held at Starehe Boys Centre in memory of Okoth, who was a student at the school.
"There is going to be another funeral service at Moi Girls High School in Woodley, Kibra, starting at 11 am today. After that, there will be viewing of the body at the same venue," Odinga said
He added that the body will then be transported to Homa Bay on Saturday morning.
On Tuesday, a family in Homa Bay County claiming a paternal relationship with the late Okoth said it wanted to be included in his burial arrangements.
It said that their relative- a man named Nicholas Anayo Obonyo who died in 1993 — is Mr Okoth's father. It was proposing that Okoth be buried in Kochia next to Obonyo, according to Luo traditions.
Mr Obonyo was buried at the family's ancestral home in Kochia village.
The family claimed that Obonyo married Okoth's mother, Angelina Ajwang, and even paid dowry before they separated when Okoth and his siblings were young.
Through its spokesperson Raymond Mbai, the family explained that Okoth's mother went to live with her father at his home in Kabondo Kasipul after the separation.
Later she bought land near her father's homestead and put up a house. On Monday, The Standard visited Ajwang's home in Kabondo Kasipul. She has, however, been living in Nairobi all the while.
According to Mbai, the late Obonyo paid dowry for Ajwang, which gives him the authority to 'own' children he sired with the late MP's mother.
Four siblings
"It should be known that the late Okoth's father paid dowry of two cows and he did not take them back after his wife left. This means he has a right to the children he sired with her," Mbai said.
Okoth was the youngest of his four siblings. Mbai revealed that the late MP had not been visiting his alleged paternal family, though he was aware of it.