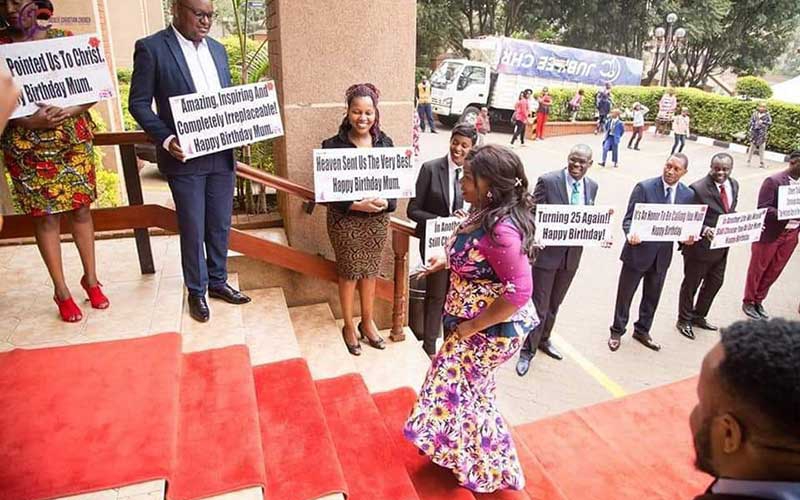 Jubilee Christian Church's reverend Kathy Kiuna was treated to an unexpected welcome when members of her church received her with flowers, placards and dance to celebrate her birthday.
Alighting from her vehicle, Kathy was handed a bouquet as she stepped onto a red carpet rolled out for her.
Dressed in black, youngsters from the church then treated an exhilarated Kathy to dance.
Lining her path into the church, men and women carried placards with sweet messages.
However, Kenyans took issue with some of the messages referring to her as 'mum,' despite some of those bearing the placards being around the same age as her.
"God found the strongest woman and gave her to us for a mum, happy birthday," read one of the placards.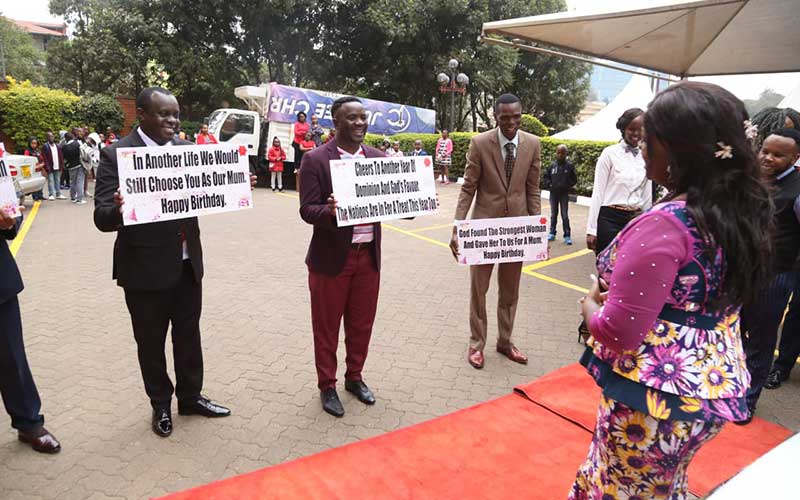 Reactions:
Unaita mans wako dzaddy alafu unamuona kwa shoshomidia acting a clown calling Kathy Kiuna 'mum'.

Tragic. — The VoiceOver Local Man ???????????????? (@DareToXavier) July 29, 2019
These are someone's husband or son. He has never surprised his mum or wife on her birthday and he is here carrying blacards wishing their pastoress happy birthday. I don't know the kind of injli ur being preached of #RevKathyKiunapic.twitter.com/dhFLCTuo2P — The Raccoons (@Hodgemanspecial) July 28, 2019
Daughter's of Zion najua wako hapa waki screenshot tweets wapelekee mum???? #RevKathyKiuna — Beaty Kuria ???????? (@beaty_kuria) July 28, 2019
Mummy we love you!!#RevKathyKiunapic.twitter.com/b3gmEbIFlM — @sharzmontana (@sharzmontana) July 28, 2019
Happy birthday mum #RevKathyKiuna we as your sons and daughters really value you and know your worth. They pain when we call you mum.. Soo unfortunate to them pic.twitter.com/lYDVdLZNNY — bobstima (@Somibobstima) July 28, 2019
Controversies
The Kiunas are not new to controversy as in 2016, Allan Kiuna caused an uproar after sharing an image of a private jet, saying that he was expecting the plane.
Following social media reactions, he pulled down the photo of the Cessna Citation X 1997 model which costs around Sh2.1 billion.
In 2018, the Kiunas' church was in the spotlight for hosting gay CNN anchor Richard quest. A section of Kenyans on social media opined that hosting Quest in the church was like endorsing homosexuality, which is condemned in the Bible.
The Kiunas have also face criticism on several occasions over their lavish lifestyle.
Speaking to Ricard Quest, Kathy justified their lifestyle, saying that God wants them to live well.
"I believe God has called us to live life and live well," she said.