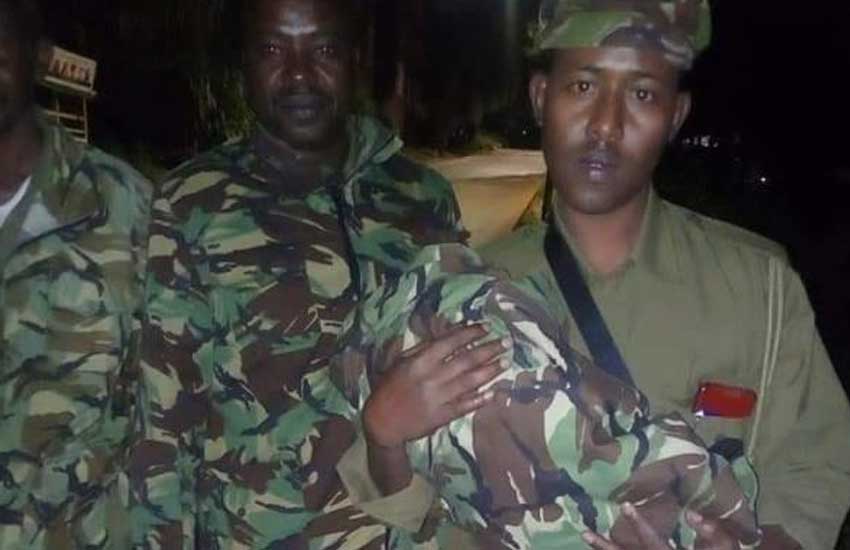 Two policemen who have won accolades for rescuing a baby dumped at birth in Meru yesterday visited the "little angel" in hospital.
Mohamed Noor and Charles Githinji, who rescued the infant dumped in a thicket by her mother after birth, took special milk to Angel Kinya at the Meru Level Five Hospital.
The officers attached to Central Bank Meru police post, while on duty on Monday night, rescued the newborn after they heard her cry from a nearby thicket.
Covered the baby
Constable Noor covered the baby with his jacket before the two took her to the hospital where she was received at the Paediatric wing.
The officers yesterday visited the facility to check on the baby and took her some gifts.
The duo said they found the baby on Monday at about 10 pm. "Today we have just brought her milk, diapers and some clothes. We are grateful that she is in good condition as we brought her and doctors are still attending to her at the nursery," Noor said.
The two have received accolades for their action from many quarters. Their gesture has also caught the attention of Central Bank Governor Patrick Njoroge, who praised them, in a tweet, for the act.
"I am proud of these officers!" read the tweet.
Good light
Imenti North Police boss Robinson Mboloi said the officers portrayed the police service in good light, which should be emulated.
The policemen found the infant about 300m from the perimeter wall of Meru Muslim Day Secondary School, and walked to the hospital, which is about 500m from their workstation to get her medical help.
Lucy Kimathi, the head of Pediatric wing at the hospital, yesterday said the baby was out of danger. She said they had to act fast when the officers got to hospital with the baby to save her life.
"The placenta, which is supposed to be separated after three minutes at birth, was still connected to the baby. However, we acted on emergency before taking her to the nursery," Kimathi said.
The medic commended the officers, saying their follow-up exhibited a heroic character.
"This morning we received the two officers and we are happy that they even brought her some special milk that the baby will feed on for six months," she said.
Medics named the infant Angel Kinya.