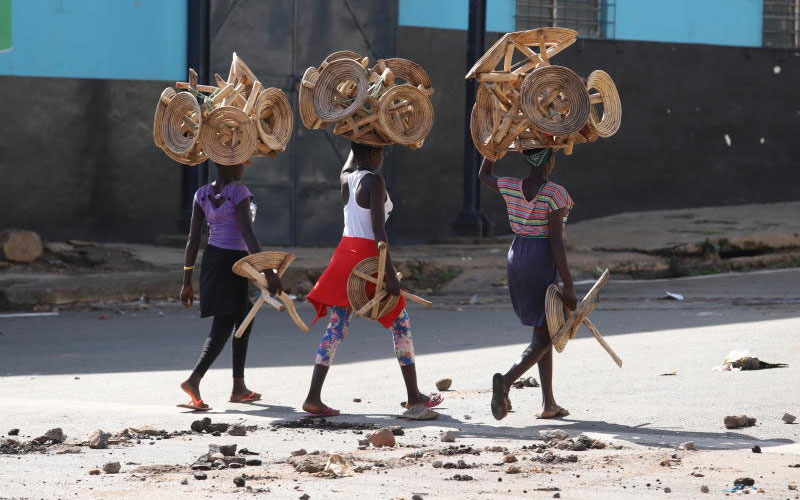 Foreign hawkers from the Democratic Republic of Congo, Rwanda, Burundi and Uganda have invaded Kisumu town.
They have outwitted the local hawkers because they are suave, aggressive, offer flexible bargains and take goods to the door steps of potential buyers.
Local street traders are now crying foul while accusing the Government of allowing foreigners to compete with them.
Despite the protests, the foreign hawkers seem to be slowly pushing out local traders.
"I started this business last year. I bring 1,000 stools where I buy each at Sh100 and sell at Sh250. The locals like our goods because we offer flexible prices, and we know how to talk to them," says Susan Vera, a vendor from Uganda.
Susan has six youths who work for her on commission.
"Business is good. We are cashing in on the spirit of the East African Community that has allowed free movement of goods," she adds.
In the streets of Kisumu, other young men saunter around hawking necklaces, shoes, bags and other beauty products.
Cross border
Jackson, a Congolese, says they buy shoes from Kampala, pack them in sacks and use a famous luxury bus company back to Kenya.
He said together with his three friends, they bribe the bus driver with at least Sh2,000 to help them cross the border.
On reaching Kisumu, they all settle in a single-roomed house to prepare to hawk their products in hotels, pubs and homes.
They carry their products in big bags as they hawk them since they have no stalls.
"We stay in Kenya for about three weeks and later return to Uganda for more products," he says.
Another Ugandan trader who declined to give his name says he makes huge profits on a good day.
But Kisumu hawkers are now crying foul, saying the foreigners are pushing them out of business because they do not pay taxes.
"Here, I pay the county municipal Sh30 every day for taxation. Besides this stall, I pay Sh2,000 rent every month and I must secure a business permit, and my family depends on me," said Jared Otieno, a local shoe trader.
Kevin Movine, the chairman for Fire Hawkers Association, a group of shoe traders in Kisumu, told The Standard the competition between the local and foreign traders was getting stiffer by the day.