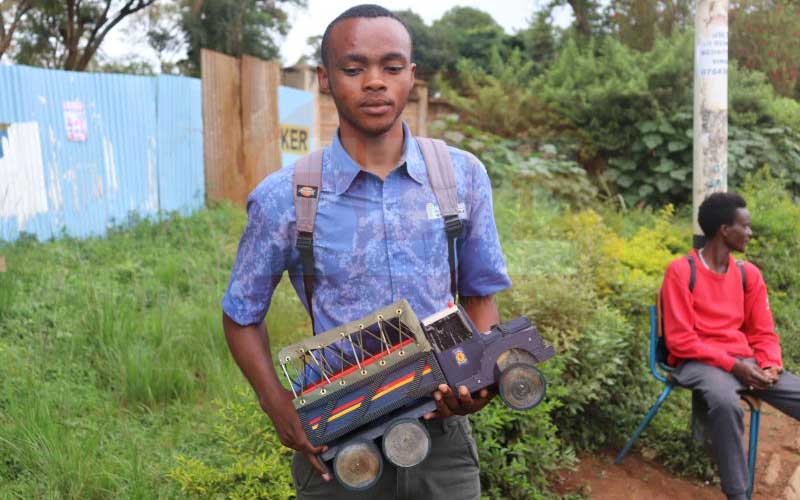 Reagan Mutiso exudes confidence as he stands on the roadside near Embu Law Courts on the busy Embu-Meru highway selling wooden toys.
The toys are painted in either navy blue or jungle green with a tough clothes material on the back and miniature benches on the basin to mimic a truck.
The cars resemble miniature Kenya Police or Kenya Army vehicles.
Whereas hawking such things is associated with poorly-educated, jobless Kenyans, the case here is different.
Mutiso and his two colleagues are students at the University of Embu, who have found a better way to utilise their free time: harnessing their entrepreneurial and marketing skills to earn a shilling.
Mutiso, who is pursuing a Bachelor of Education and will join second year in September, uses his earnings to pay rent and part of school fees.
He is the team leader of the group and has been at it since he left high school in 2017.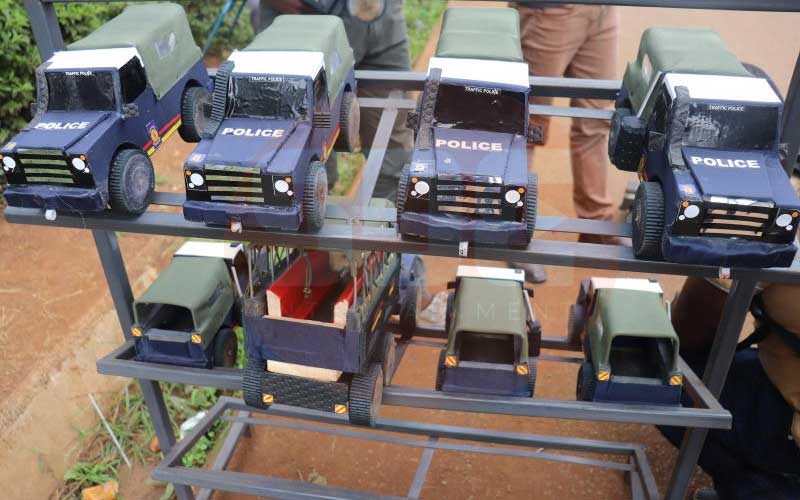 "When the Kenya Certificate of Secondary Education results were out, those who did not qualify to join university quickly pursued various ways of earning a living. Instead of just sitting at home waiting to be admitted to university, I joined them," says Mutiso, who hails from Kangundo, Machakos County.
Mutiso would attend training in woodwork and carpentry and learnt how to make the toys.
He would later move across towns and streets marketing the toys.
He started by constructing five units that he sold on the roadside, but with time the business grew to the extent that in one day they could make 50 toys then spend several days selling them.
They later expanded other neighbouring towns like Meru and Thika.
Using a design developed by the founder of the toys, Mutiso uses pieces of timber, a hardy cloth material, wires and tiny wheels to make the toys.
So how does he juggle business and academic work?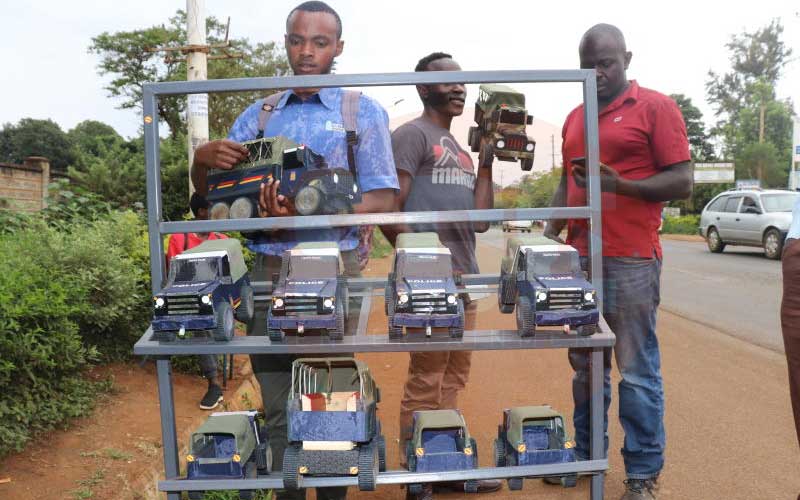 "We work in shifts such that when I'm not around, my colleagues stand in for me. I dedicate evenings to my studies to make up for the time spent at work," he says.
During peak times, mostly from Friday to Monday, Mutiso and his friends are a happy lot as they sell between 18 and 25 toys a day. During off peak, they sell eight to 15 toys.
In a week, they make a profit of around Sh10,000.
"I hail from a humble background. Such kind of money does a lot in uplifting my status. Since I'm the first born, my parents are able to channel their resources to my siblings," he says.
He sells the smaller toy for between Sh850 and Sh1,000 and the bigger ones for between Sh1,800 and Sh2,500. He says some customers are willing to pay even more to support a youth-driven business.
He makes most of the toys at a workshop in Kangaru market in Embu County and sources the big ones from Thika where he works closely with Quality Wooden Toys CEO Benson Kasanga.