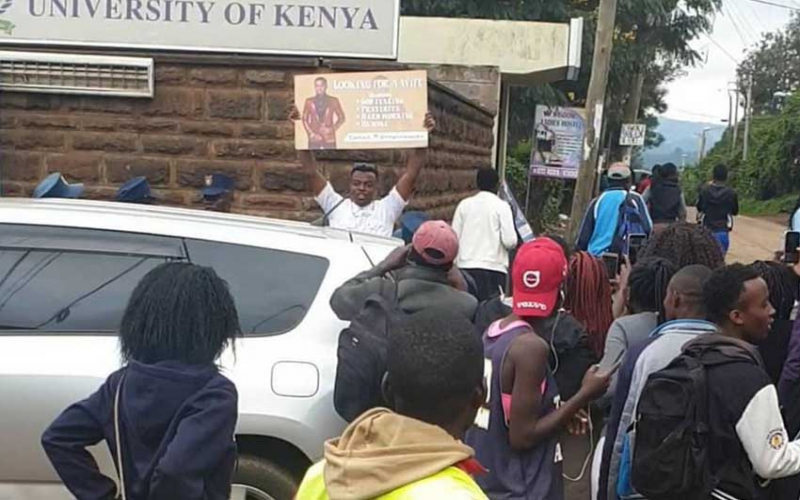 Kenyans have scorned at reports by controversial gospel singer Ringtone Apoko that he has been arrested for 'prostituting'.
Through his social media pages, the singer on Monday, June 10 pleaded with his fans for prayers claiming that he was in police custody in Karen.
A matter that did not rest well with some of his fans who ridiculed the singer for claiming that he had been taken into police custody for 'prostituting and causing confusion at Cooperative University.'
"Prayers please. Is it crime to look for wife? Why are police arrested me while am leave cooperativeuniversity Karen. They must release me. Eti am prostituting and causing confusion," wrote Ringtone while mutilating the English language in the process.
The text was captioned in a photo of himself holding a placard in the vicinity looking for a wife.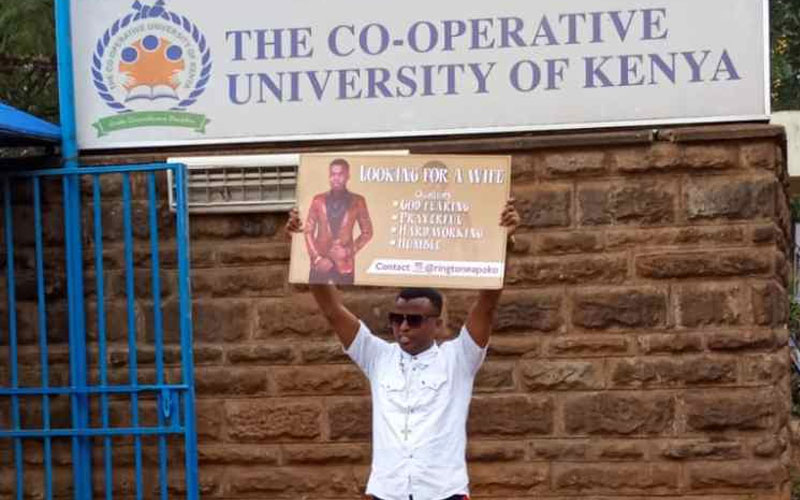 Looking for a wife
A few weeks ago Ringtone who was hosted on Upclose with Betty revealed he was looking for a wife in the most unique way.
"Now that Kenyan ladies are ignoring me we are going to go out to the road.  There's something I have been doing secretly. I'm surprised no one has noticed yet," he said
In the segment, Ringtone drove to Runda and parked his car on the side, stood in the middle of the road and raised the placard for 30 minutes with his future wife's qualities.
"If in those 30 minutes a lady sees me and inboxes me we talk, I'm ready," Ringtone explains.
Here are some of the comments
si unilipe nikue nakutweetia bana ???????? hii kizungu yahuzunisha oyaa — ManHimself! ???????? (@Mkubwa_Nesh) June 10, 2019
And this English should be presented in court as evidence! Wewe sioni ukitoka. — Harrison Juma Luchivya (@harrison_juma) June 10, 2019
What ringtone has done to English language!!
...... pic.twitter.com/PMjltzgrsY — I am Wangechi (@wangechi_kago) June 10, 2019
Ungeingia university wakufunze English kwanza ndo uanze kusaka wife — JAHKID???????? (@DanKilonzo7) June 10, 2019
It is only our police who can understand this kind of English. They speak such too. I think that in regards to confusion, it is true. — Kamau N Maurice (@KamauD33) June 10, 2019
Lmao r.i.p pic.twitter.com/zOZeDffRh9 — Alexander the Great (@derrickmwerema) June 10, 2019
pic.twitter.com/2Vvsb2Iso7 — Ali Kerre™???????? (@AliKerre) June 10, 2019
Oh Lord have mercy at least on his English.. pic.twitter.com/bViR3t5o3e — Fabulous Fab???????? (@MbiriFabian) June 10, 2019
They must release your English too — Kariukisteven (@Steve85151150) June 10, 2019
Why are you speaking Chinglish? — BRAVIN™ (@IamBravin) June 10, 2019
Hapo kwa qualities za wife ongeza "English teachers are encouraged to apply" — Mulama (@17_mulla) June 10, 2019