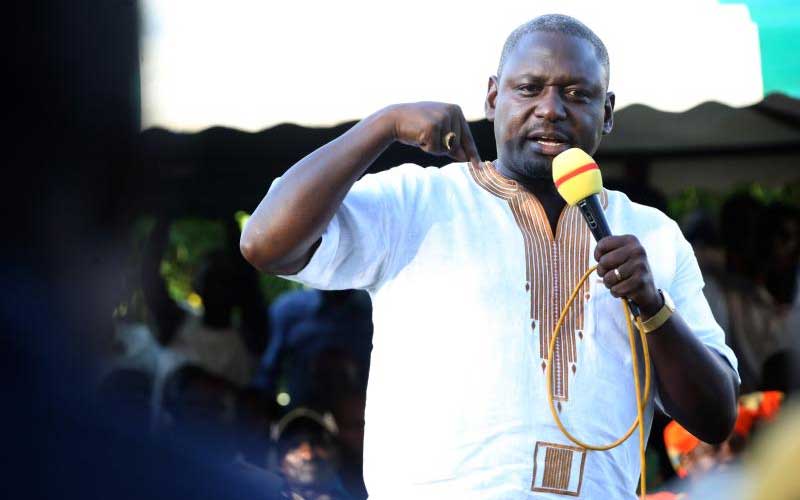 Following the unveiling of new bank notes by CBK Governor Patrick Njoroge, Rarieda MP Otiende Amollo has said that the notes are illegal.
According to the vocal lawyer, the notes bearing an image of founding president Jomo Kenyatta is in contravention to the constitution.
In his argument, Amollo wondered whether there weren't better images portraying Kenya hence the move to use Jomo Kenyatta's image.
"Have seen the new notes unveiled. I'm personally persuaded they're contrary to A. 231(4) of the Constitution, to the extent that they bear the image and portrait of the founding President.
"Are we short of Images that depict Kenya? Thumbs down on this!" he stated.
READ ALSO: Otiende Amollo reveals controversial detail on Kenyan currency note
The article in the constitution quoted by Omollo reads, "Notes and coins issued by the Central Bank of Kenya may bear images that depict or symbolise Kenya or an aspect of Kenya but shall not bear the portrait of any individual."
Reactions
We can't wish Jomo Kenyatta away; He's the 1st president of Kenya and paying him implicit recognition is a small price to pay for the gains anticipated from this stroke of genius. — Wambua mwana'a Munguti (@WaMunguti) June 1, 2019
The constitution says No — Messy Lion (@Kaka_Dubu) June 1, 2019
He didn't fight alone for the independence of our nation, — bill yongo (@billyongoCDXLIV) June 1, 2019
some people have so much entitlement to this nation, if it was possible, they would get a title deed or the land called Kenya — abwajo (@GeorgeAbwajo) June 1, 2019
Possibility of challenging the notes in courts? — PAUL OTIENO ONYANGO (@JAKADAWA) June 1, 2019
Directive on old notes
During the unveiling of the new bank notes during Madaraka Day celebrations in Narok, Njoroge announced that the Sh1,000 notes will cease being legal tenders by October 1, 2019.
The move has since elicited a raging debate, with the general consensus being that the move will is a blow to corrupt individuals.
According to Amani National Congress party Musalia Mudavadi, the deadline should not be extended.
"If they extend it, then they are giving room to the fellows who have illicit cash in their godowns, mattresses more time to bring it out," he said.