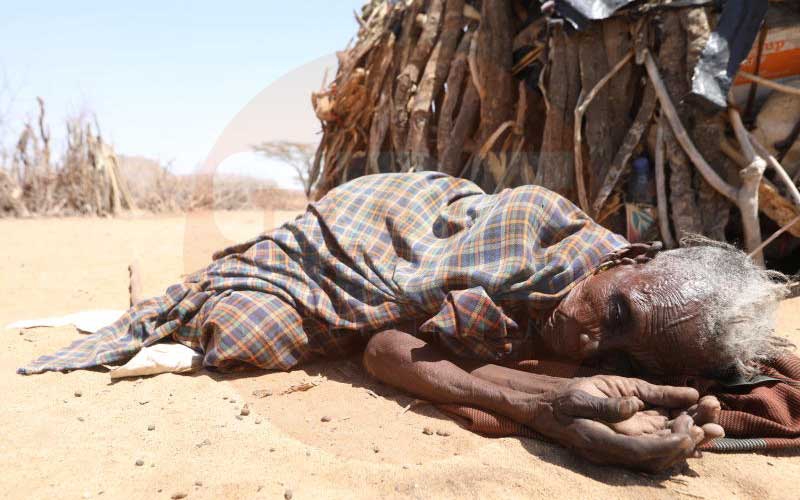 It is 8.50am in Lojere Emoit village in Turkana South and the sun is blazing down over the vast land.
The temperature is 38 degrees Celsius and climbing, and locals are seated under withering trees to protect themselves from the searing heat.
Elderly men hold tightly to their caps as hot winds blow across the village where death from starvation is a matter of fact.
The drought that has ravaged this village and the entire county since June last year has been devastating.
In Lojere Emoit alone, five people have died after the prolonged drought killed livestock, the economic mainstay of the pastoralists.
Nothing better manifests the grim reality of the drought in Lojere Emoit and the neighbouring Nang'erelemunyan village.
"We have lost three men, one woman and a child in Lojere Emoit. The five people died of starvation and were buried between March 11 and 13," Samuel Loperito, a village elder, tells The Standard.
By 10am, it was difficult for our team to walk across the baking hot village ground.
Mr Loperito said goats, cattle and camels have died due to lack of pasture and water. The surviving livestock, he noted, cannot be sold because they are emaciated.
We saw four fresh graves but could not independently verify what had led to the deaths of those interred.
Loperito, however, remained adamant.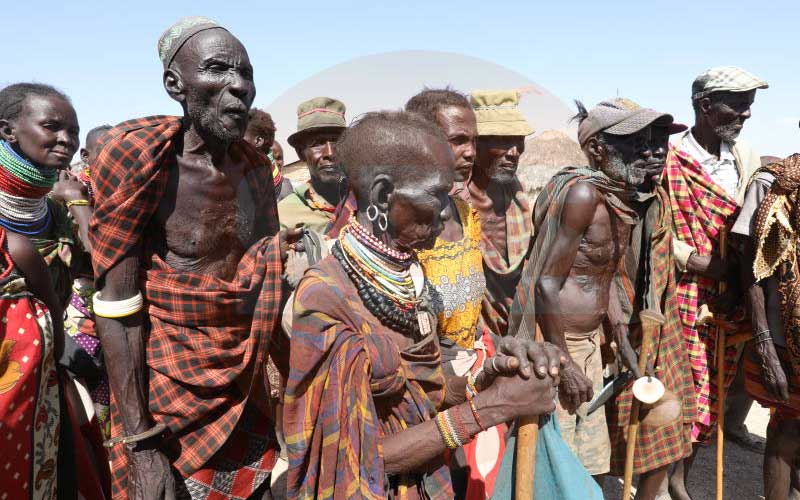 "Those doubting the deaths can come and exhume the bodies for a post-mortem. You will be shocked at the number of people dying of starvation," he said.
One of the victims, 40-year-old Ewoi Emeto, we are told, struggled unsuccessfully for four days to find food.
As narrated by her nephew James Eyele, Emeto succumbed to hunger on the fifth day and left behind five hungry children.
"We were hoping to save her life but we didn't have the means to give her food. She died painfully," a sad Eyele said, pointing at his aunt's grave.
He added: "I have now been left with the responsibility of fending for Emeto's children. My own mother is starving and I can't help her because all our goats died due to the drought. There is no water and pasture for human and livestock consumption."
Eyele claimed residents started dying of hunger in February.
Barely 200m from Emeto's grave lies another grave where the mother of 19-year-old Jackson Lojanai was buried a week ago.
Lojanai said his mother died after their ten remaining goats starved to death.
"My sister and I have been left with nothing by our mother. Our only hope is that a Good Samaritan steps in to help us with food," he said.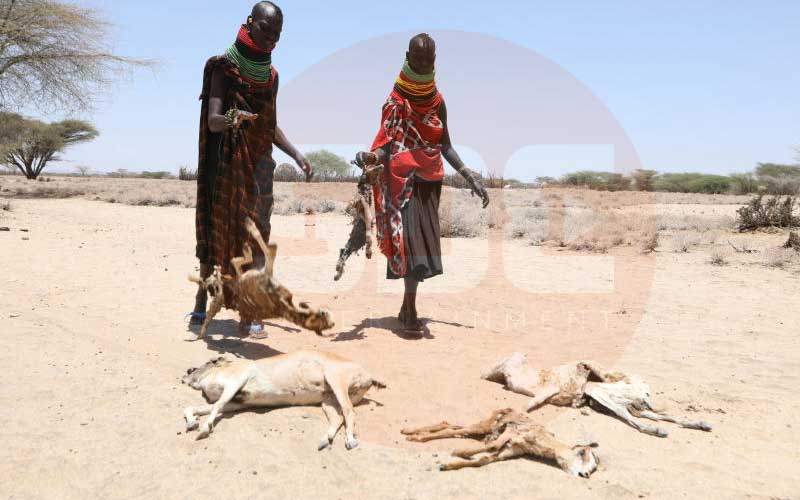 The ravages of the drought hit the Arng'amunyan grazing field hard. Located about 14km from Lochereemoi, it nearly wiped away all the livestock in the area.
We established that camels, which are known to withstand harsh weather conditions and can go for long periods without water, have died in Arng'amunyan.
Lokorkipi village, located 16km from Arng'amunyan, has also borne the brunt of the drought. Ekido Ekapolon, a resident, lost five goats in the last one week.
Iyapan Etum, Ekapolon's second wife, narrates how more than 60 goats died due to lack of water and pasture in the neighbouring grazing fields.
Etum says they are left with 20 emaciated goats and that they are clinging to the faint hope that it will rain soon and pasture will grow again.
Turkana leaders have asked the Government to apologise to residents for supplying relief food long after those who needed it most had died of hunger.
Turkana South MP James Lomenen claimed the State stopped supplying relief food about nine months ago.
Mr Lomenen also accused the county government of failing to mobilise resources to supply food to affected families.
"The national and county governments knew that Turkana is a drought-prone area and locals have been surviving on relief food. We raised the matter with both governments but no one wanted to listen to us," Lomenen said.
The MP rejected State reports that the Turkana deaths were not as a result of starvation. He challenged the Government to deploy health experts to ascertain the real cause of the deaths.
Yesterday, Governor Josphat Nanok and County Commissioner Wambua Muthama co-chaired a meeting in Lodwar to review the progress of relief responses by both governments and the drought situation on the ground.
Mr Nanok said a review of the first phase of relief food distribution will determine implementation of subsequent responses, which are expected to target regions where residents are in need of immediate relief as reported by the National Drought Management Authority (NDMA).
Additionally, he assured that the county government would allocate additional funds for relief responses in case the expected long rains fail.
Nanok said both levels of government were working together to coordinate relief responses to reach all those affected by the drought.
The assurances followed a ministerial committee meeting in Nairobi chaired by Deputy President William Ruto where he announced that Sh2 billion had been released to supply food and water to regions in 13 counties facing drought.
On Monday, Dr Ruto said that the deaths may not have resulted from hunger.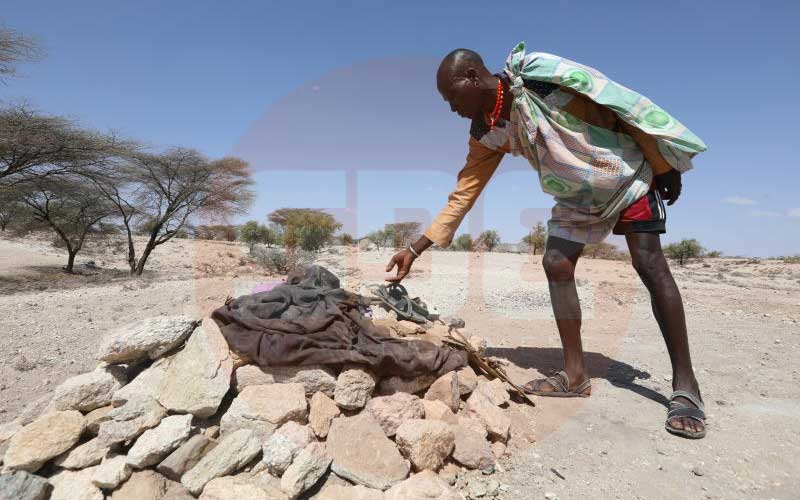 But Lomenen said: "People have died. I personally know of four elderly residents who have died of starvation in my constituency."
Devolution Cabinet Secretary Eugene Wamalwa was in the vast county at the weekend and pledged that relief food was on the way.
Lomenen said the relief food promised by CS Wamalwa "was too little too late" but perhaps it could help avert more deaths.
Even as the blame game on who should be held responsible for the deaths raged, the Turkana South MP said he had been using his salary to buy relief food for starving residents in his constituency.
He said thousands of livestock had died in the past year due to a locust infestation that ravaged Turkana South and neighbouring constituencies, leaving the area without any vegetation.
Nanok, however, blamed the dire situation on slow release of funds to the county by the national government.
The governor said several water projects that would have supplied water to residents and their livestock had stalled because of lack of funds.
"We are asking the National Treasury to release Equalisation Funds to enable us embark on long-term programmes to mitigate the effects of drought."
"This is not a time for blame games. I have been a humanitarian worker for 15 years and an elected leader for more than 11 years. The current drought is not as bad as that of 2017. We are soon releasing between Sh700 million to Sh800 million to buy relief food," Nanok said.