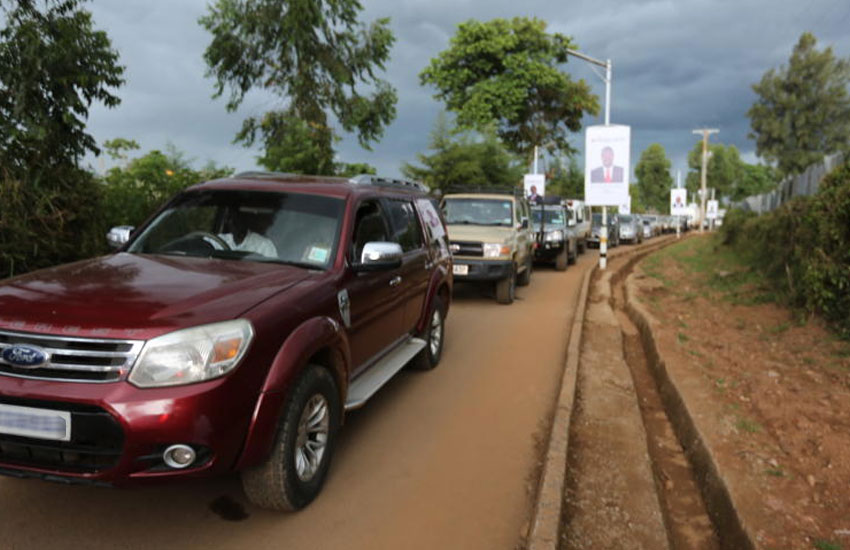 A grand show of lavishness and affluence was evident on the vanity fields of Kirinyaga, as State and county officials trooped in for the annual devolution fete.
Luxury vehicles, gleaming with an allure of wealth, stood parked along the Kutus-Sagana and Kutus-Kerugoya highways in their hundreds.
The cars have become common tools of leisure among county officials.
Huge billboards bearing the healthy, smiling faces of governors were erected on the streets. The faces showed glowing contentment, whose candour was displayed to every admirer.
But if the gleaming fuel-guzzlers broke the boundaries of modesty in country saddled with debt and penury, then those boundaries could be pushed further to accommodate those who arrived in helicopters.
Destitute faces
The destitute faces of Kirinyaga locals stared with envy at the flashy vehicles and loud helicopters, contented with marveling at the show of opulence far away from the venue, since they could not be let in.  
Mombasa Governor Ali Hassan Joho and his Kilifi counterpart Amason Kingi stole the show arriving in a convoy of vehicles with their chase cars and aides in tow.
This open display of wealth came even as counties struggle to shake off the tag of wastefulness, and the sentiment that county honchos had lost touch with the people they serve.
Criticism that the annual conference had turned into another forum to waste taxpayers' money was also expressed.
President Uhuru Kenyatta touched on this appalling wastage, saying some counties used up to Sh600 million to pay those overseeing the use of a budget of Sh800 million.
"Does it make sense?" the President posed.
Characteristic of functions where Uhuru is in attendance, security agents did not leave anything to chance.
Nonetheless, away from the plenary, where discussions were taking place, the exhibitions offered a practical look at what the counties had achieved.
Murang'a County, which has selected dairy farming as its flagship project, went to the extent of placing a pasteurisation machine on its stand.
Machakos, on the other hand, sought to dispel the notion that coffee farming was only possible in central Kenya.
"We have eight sub-counties in Machakos and five of them are coffee growing zones," Trade Executive Francis Mwaka said.