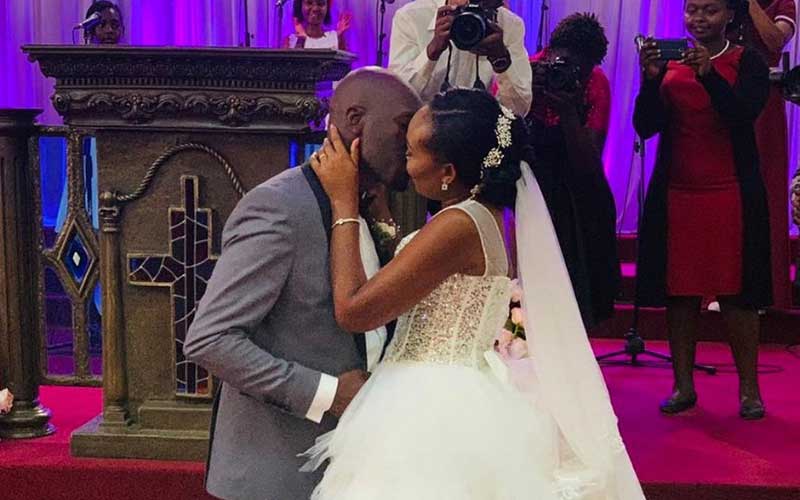 NTV news anchor Dennis Okari got married on Friday 15th February in a colourful wedding ceremony to Naomi Joy and days later, it seems like he is back to work.
The secretive news anchor continued to post news on his social media platforms, attracting the attention of Kenyans who questioned as to when he would go on his honey moon.
Kenyans on twitter were on his case after he posted a news tweet a day after he got married and wondered when he would be off work to enjoy his honey moon with his wife
Ata reception haijaisha pic.twitter.com/El3QiMYuwf — Jules ???? (@PreetieJules) February 15, 2019
Aren't you supposed to be enjoying your reception, or honeymoon.....or something!!!!! — Winnie Okok (@winnie_okok) February 15, 2019
Boss? Aren't you supposed be on honeymoon. — George Ouko (@oukogeorge) February 15, 2019
You are not in honeymoon? Or you decided to have it on twitter? — Abdul Malick Omanyo#Leading4Impact (@Abdul_MalickKE) February 17, 2019
Wee enda honeymoon achana na news. — Nandwa Isaac (@NandwaI) February 15, 2019
Boss ata honeymoon hakuna? Usharudi wera... — Dél Bombö (@ole_ppaps) February 15, 2019
Dennis Okari who was formerly married to Betty Kyallo got divorced and tied the knot with Naomi Joy at an invites-only ceremony at Ridgeways Baptist Church.