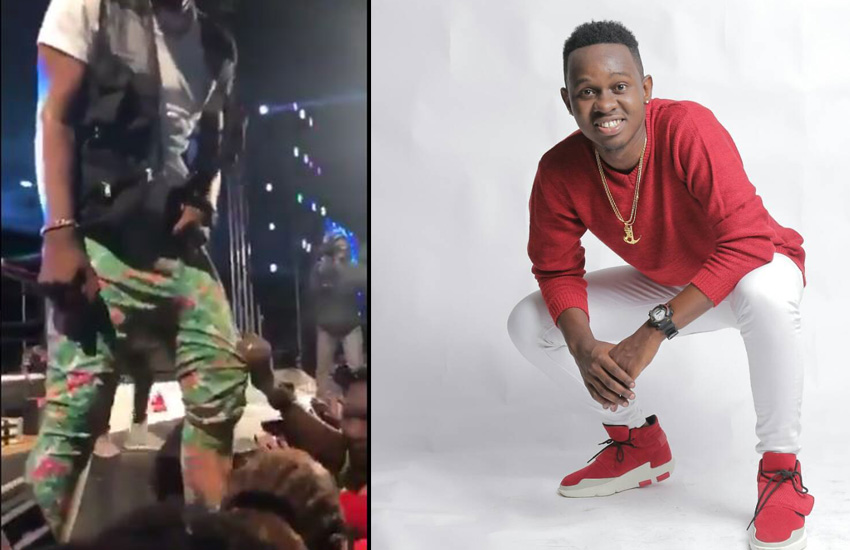 A video has emerged online of Wasafi star Lava Lava getting more than he bargained for on stage at Uhuru Gardens, Nairobi, on New Year's Eve.
Captured on camera was a bizarre moment where enthusiastic female fans groped the singer and attempted to pull down his trousers as he swung to the rhythm of his own tune.
To the right, were also men reaching out, giving a helping to the ladies as they mobbed the singer before the Go Gaga hit maker backed off.
Lava Lava was performing at the Wasafi Festival alongside other label mates; Mbosso, Queen Darling, Diamond Platnumz, Rayvanny, and Harmonize.
It is not clear whether they were showing him love or trying to rob him.
On December 8, American rapper Designer got the shock of his life while trying to interact with fans during the Jameson party.
The rapper was allegedly mugged on stage.
"Wait! Wait! Wait! My sneakers, my sneakers, my sneakers, my sneakers, my sneakers… This is not cool at all ya'll, I came all the way from America to sing for you and someone out here is trying to take what he didn't work for. That is not how we do things," yelled the Panda hitmaker.
Earlier that month, Diamond Platnumz was also in the news after a crafty fan swiped his chain worth Sh1.8 million in Mtwara, Tanzania.
"Zile zilikuwa white gold na diamond nilinunua Marekani. Sikumbuki lakini hazishuki million arubanne. Nilijua haziwezi kung'oka, alivyotokea mtu ghafla akazipull nilipatwa na shock," he said.
#WasafiFestival was lit. pic.twitter.com/EIilPusiPh — Opta KOT (@Opta_KOT) January 1, 2019
Would you like to get published on Standard Media websites? You can now email us breaking news, story ideas, human interest articles or interesting videos on: [email protected]