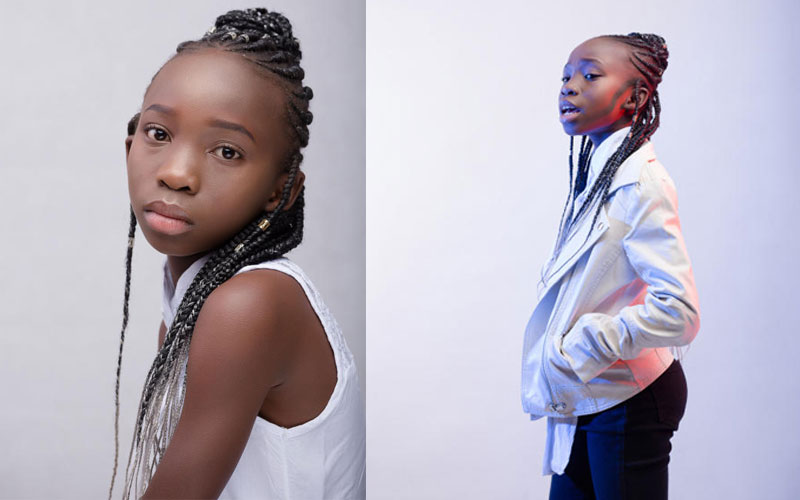 Born Gracious Amani, Amani G went viral when she sang Alicia Key's Girl On Fire.She later signed a deal with Pine Creek Records and just released her EP last week.She speaks to Winnie Makena about music and school.
What school did you attend?
I was in KingHill School in Githurai.
You were a candidate this year, how did you perform?
Above average (laughs).
What was your favourite subject?
Science was my favourite but it turns out I performed better in English.
Do you have a favourite meal?
Yes, chicken, chips and coselaw.
What are your other hobbies?
Eating is my favourite followed by sports. In school I played football, volleyball and participated in atheletics.
What would you like to be when you grow up?
A scientist. I would like to do astronomy and study space.
When did you start singing?
It was before I started school, I was just a little girl. I was brought up in a musical home and everyone in our house sings. The speakers used to be placed under my bed and we would only sleep when it was on.
When was the first time you sang before a crowd?
I was nine years old when I performed before a big crowd in our church. Since then, I have performed at a show in Two River's Mall, Kid's Festival as well as in KICC.
Do you play any instruments?
Not currently but I am looking forward to learning the saxophone and the guitar.
How did you break into the music scene?
I hadn't gone to school because of fee payment issues so I was just walking around my neighbourhood when I saw some kids being given candy and I went to join them.
To appreciate the strangers' kind gesture I sang for them, Girl on Fire by Alicia Keys. That's when one of them took a video of me singing, uploaded it on YouTube where it went viral. It even gotto Alicia Keys hereself. That was in June, 2018.
Who are your big musical inspirations?
Definitely Alicia Keys. I also really love Size 8 and Mercy Masika.
Have you participated in any competitions?
Two so far. I have been in I Can Sing which is yet to air and Kids Can Sing in Buruburu, where I came in fourth.
How do you balance school and music?
During the week I'm at school then I work on my music on weekends.
How did you get the record deal with Pine Creek Records?
After going viral, a neighbour gave out my mum's number when they came visiting. I was in school at the time. They came back to speak to me about signing a contract with them.
What is your vision?
I want to prosper in the music industry through gospel music. In that way, I get to win souls for God at the same time praising God.
Would you like to get published on Standard Media websites? You can now email us breaking news, story ideas, human interest articles or interesting videos on: [email protected]