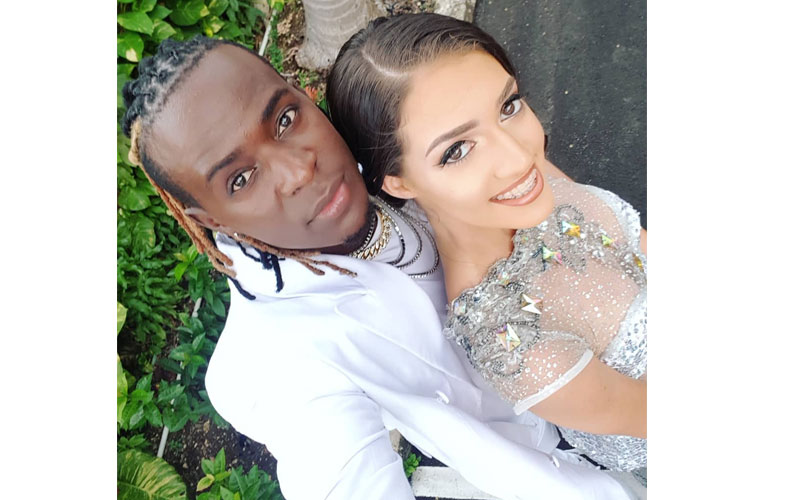 Last week, Willy Paul had to take down some of his Instagram photos with Jamaican singer Samantha J after outrage from his fans. The singer was working on a collabo with the sultry songstress of Tight Up Skirt fame but many Kenyans were not having it. In fact, most of the comments degenerated to insults with the gospel singer returning fire. It would seem someone managed to convince the young star that the backlash was doing more damage to his already battered image.
On 25 October, our dear Willy went back on social to inform the world of his wealth. In a video, he is seen in his office with a table loaded with stacks of money. The location is Saldido International, the singer's record label that doesn't seem to have managed to sign any other artist.A quick look at the record label's pages only have music and content from, wait for it, Willy Paul.
Back to the video, he flaunts the money and even engages the fans commenting negatively on his post. To his credit, his use of vulgar language seems to have been tamed.
Since making his debut in the gospel music industry in October 2010,the singer, born Wilson Abubakar Radido has transformed from one of the industry's most beloved gospel child to a hyper-controversial figure who despite his healthy dose of talent chose to rely on stunts and sideshows to push his image.
The transition started off gradually, but seems to have burgeoned as the 25-year-old singer gets older. Now at its peak, Kenyans are faced with a dilemma that Groove Awards once struggled with; Is Willy Paul's brand anything close to gospel?
I have to admit the issue of collabos with secular artistes can be argued for or against depending on which side of the moral divide you stand on. Popular singer Tasha Cobbs featured Nicki Minaj on her I'm Getting Ready single to an enormous amount of backlash while Mary Mary and Kirk Franklin have been doing similar collaborations for ages. In fact the late Pastor John Wimber, the founder of Vineyard church, weighed in on the dilemma saying, "The real test, in these days will not be the writing and producing of new and great worship music. The real test will be the godliness and character of those who deliver it."
Tola Akinsulire, a vocal Christian blogger echoes Wimber's statement and notes that all good does not only reside in the church, but also the world out there still has good in it.
"For an action to be acceptable to God and qualify as a mark of faithfulness, it must be done in a way that glorifies God by God's people with the singular motive of doing it for God's glory," Tola says.
Whether Pozze's music achieves glorification for the Most High is not our place to say.
It is however his image, promotional style and constant attraction of controversy that has us begging him to come clean.
Willy Paul developed cold feet on the promised Samantha J collabo after relentless attacks from Kenyans, which came less than two weeks after Kenyans descended on him for working with Khaligraph Jones in "Bora Uhai," a half-baked, allegedly "stolen" song rushed for release before the trending phrase disappeared online.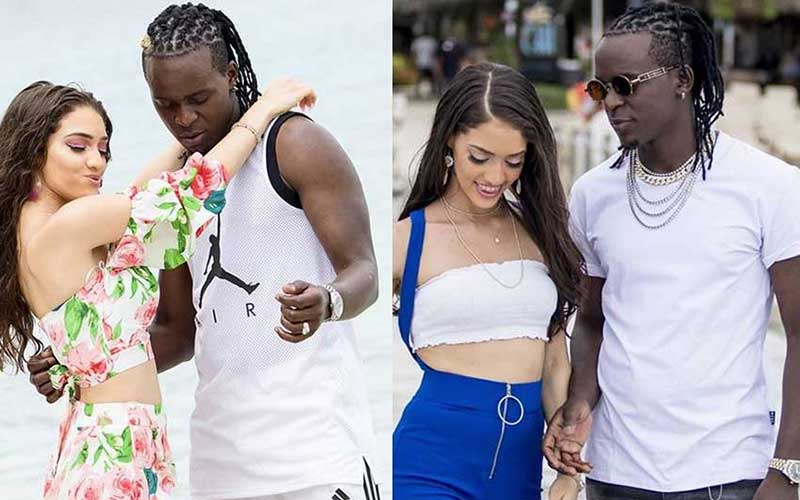 "I am getting used to this bashing. Nobody can judge me but God," Willy Paul told Pulse Magazine.
"If my consciousness serves me right, then what else should I care? What is wrong with me doing a collabo with Samantha J. Do you want to mean she is evil or what?"
Outside work, his personal life has been scrutinized just as much.
Perpetual whispers of Willy Paul's sexual escapades with different women have mirrored his Instagram page which enjoys a wide selection of women posted on the regular. Three years ago, a lady from Mathare claimed that the singer was her child's father and that he had refused to take responsibility urging her to abort instead. He swiftly denied the accusation and quickly moved on. This year, he posted a photo of himself with a woman and a child with the caption of family, leaving the fans to try and figure out the relationship between them.
Screaming headlines from the blogs have insinuated he is a social drinker, while his ruthless replies on social media have not only magnified his immaturity but also lack of the 12 fruits of the Holy Spirit that most Christians are conversant with.
"@lil_hepto you sound as stupid and jealous kama ur empty head! I'm not supposed to celebrate?? It's people like you that bring down others… don't be jealous of a nig*** success. God has given me so much… Do you know why you ur still struggling? Because you have a black heart! If ur not careful you'll loose it soon… ooops," is one his responses to a fan who criticized his actions on social media.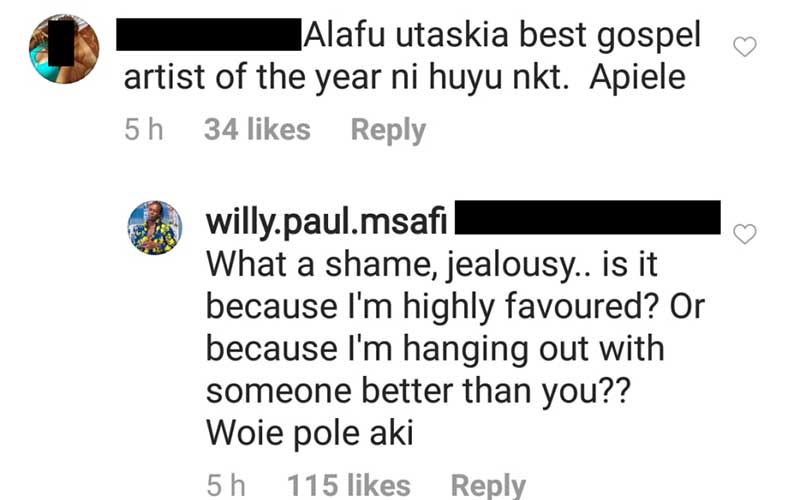 Currently, a video circulating on social media seemingly depicts the singer assaulting a woman at his Syokimau home.
Now in his prime, the singer believes he's changing the gospel industry.
It might be true, in one way or another that no other artist has disrupted things and brought chaos to the conservative business quite like him. But it's his perennial secular stunts and behaviors that have made him an enemy of the fans.
Unofficial announcements of the singer leaving the gospel industry for secular music have filled the internet since he became a big shot, way back after working with Gloria Muliro.
Perhaps it's time Willy Paul states which side he's serving. For Muliro's sake. For fans' sake. And for the gospel industry's sake.
Do you think it's time Willy Paul joined the secular side once and for all? Let us know in the comment section. 
Would you like to get published on Standard Media websites? You can now email us breaking news, story ideas, human interest articles or interesting videos on: [email protected]