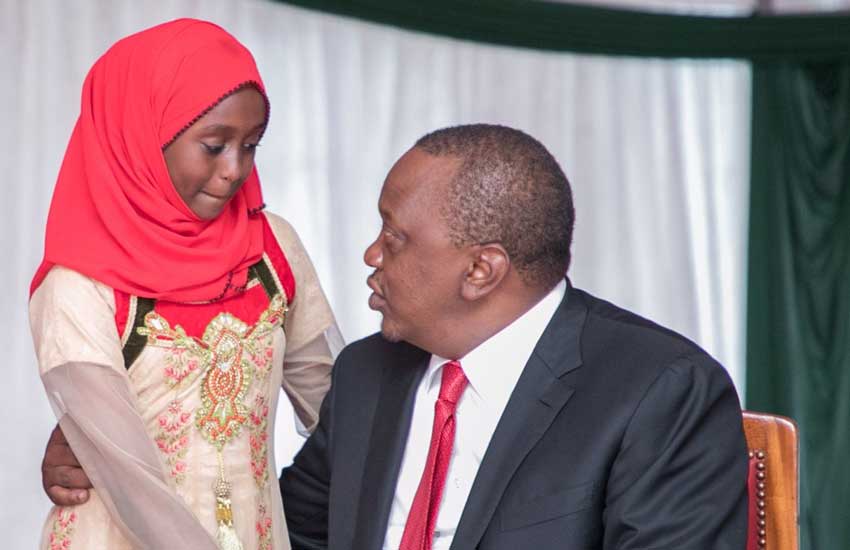 Wimbo Wa Historia, a song originally written by Enock Ondego is still reverberating decades after its release.
It is riding on a new wave, energized by a 13-year-old singing sensation, Leyla Mohamed. She did a rendition of the song and was instantly catapulted to countrywide fame got a chance to perform during this year's Mashujaa Day celebrations and even met President Uhuru Kenyatta.
She speaks to SDE on how surreal the rise has been.
1. Who is Leyla Mohammed?
I am a talented Kenyan Singer, 13 years old (as at October 2018), of Somali origin, born in the year 2005 in Naivasha Town at a place called 'Kabati' but now I live in Nairobi's Eastleigh Estate.
I come from a humble background, a small family made up of my mother, who is the sole breadwinner, and a male cousin Mohamed who I fondly call my big brother as I have known him all my life and we have grown up together.
I am currently a standard eight pupil and set to sit for my Kenya Certificate of Primary Education this coming month of November.
2. When did you start your music career?
I began singing at the age of three, my biggest influence coming from listening to the radio, especially Kiss 100 which my mom loved listening while she is doing house chores.
Professionally, I have begun this month of October 2018 with the release of the song Wimbo Wa Historia which is a rendition of an old patriotic song written by Mr Enock Ondego.
3. How did the Wimbo wa Historia rendition happen?
Dj Pinye who is my mentor and executive producer asked me if I would love to sing for the president and I said yes.
He told me then for that to happen, I will have to do what he asks me to do, so he sent me the original Wimbo wa Historia and asked me to try to sing it in my own way. Funny enough I loved it, yet I had never heard it before.
I wrote and sang my version and sent the demo to Dj Pinye within one hour.
A recording session was then organized and we recorded the song at The Permanent Presidential Music Commission studios and we did the video a few days later.
4. The song is such a huge tune.Did you feel overwhelmed to carry the torch?
No, I was not overwhelmed as I have been doing vocal classes at PPMC since January this year where my vocal teacher Christine trained me on vocals, live performance and confidence when singing to bigger audiences.
5. Your version is still trending countrywide, did you expect the response?
I did not. I was and I am still amazed by the reception but all this is because of God, and also the good work of everyone in my team. We are several of us and everyone knows his job well.
6. When you got the call that you were to perform in Kakamega during Mashujaa celebrations how did you feel?
I was excited as this was my dream and it got answered within one week of the song release. As the drew near I had a little fear because of the huge number of people I was to perform for but this turned out well.
7. What was the experience performing for thousands of Kenyans at Bukhungu stadium?
The feedback was very good they were even shouting I repeat my performance. This was despite a small problem with the audio system which affected my performance.
I later got a second chance to perform at the state luncheon at State House, Kakamega where all went so well and I even met the president plus many other influential people in the government.
8. President Uhuru Kenyatta was really pleased with your performance. Did you have a chance to meet him?
Yes, I did meet him at the state luncheon at State House, Kakamega where I also performed.
9. Your connection to the Permanent Presidential Music Commission (PPMC)?
They nurture me and provide me with the resources I need to achieve my dreams of being a professional musician.
PPMC stands for The Permanent Presidential Music Commission and is a government program/ centre that was opened by the government in 2008 to run a program that empower musicians and connect them to resources and opportunities they need to assist them to earn a living from their art.
10. What is in store for your growing fan base?
Right now I am heading back to class as I will be sitting for my KCPE in a few days. So that is what is on my mind then after that, I look forward to recording more music and release before joining high school.
The whole plan is with my management who are people I look up to a lot and they mean well for me and my family.
Would you like to get published on Standard Media websites? You can now email us breaking news, story ideas, human interest articles or interesting videos on: [email protected]