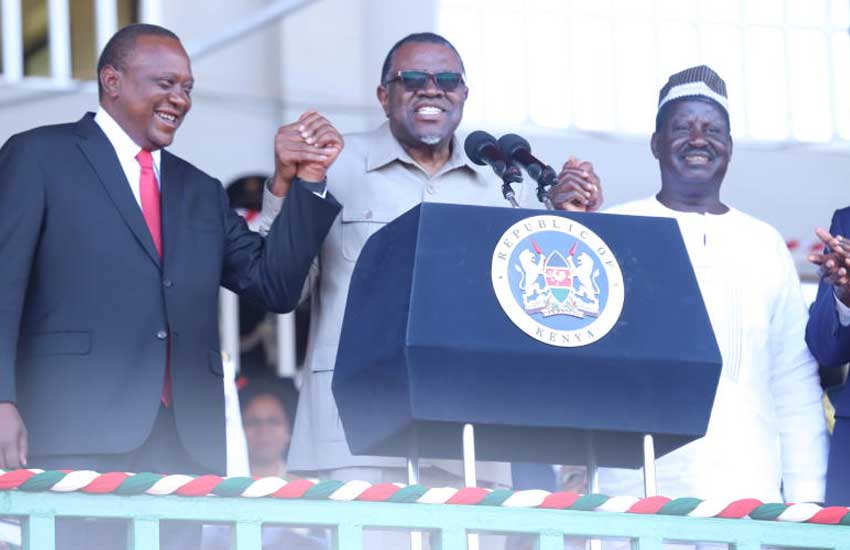 Kenya's opposition leader Raila Odinga has accepted his appointment to the African Union (AU) as the High Representative for Infrastructure Development in Africa.
In a statement, Odinga thanked the AU Commission and its chairperson Moussa Faki Mahamat for the appointment saying it was a great honour and he is ready to take up the role with dedication and humility.
"Odinga further expresses deep appreciation to President Uhuru Kenyatta for the support and promises to do all in his power towards the realisation of the pan-African agenda that he and the president are passionate about," read the statement in part.
According to a statement from Mahamat, the appointment of Odinga to the post was aimed at expediting Africa's integration infrastructure.
Mahamat noted that the Opposition chief brings to the body a "rich political experience and a strong commitment to the ideals of Pan-Africanism."
"This decision is part of the African Union's drive to expedite the integration of the continent through infrastructure, in order to promote economic growth and sustainable development.
"Raila brings with him a rich political experience and a strong commitment to the ideals of Pan-Africanism and African integration, as well as a deep knowledge of infrastructure development
He thanked President Uhuru Kenyatta for supporting the move and reiterated that she expects the member states to cooperate with Odinga.
"The Chairperson of the Commission expresses appreciation to President Uhuru Kenyatta for his support to this decision, consistent with his commitment to African integration. He looks forward to the full cooperation of all Member States with the High Representative, as he carries out the mandate entrusted to him," the statement concluded.
Odinga's mandate will be among others to mobilize political support and strengthen the efforts of the Commission's relevant Departments.
"He will also support the Commission and NEPAD initiatives to encourage increased commitment from development partners."
On October 17, Odinga was at the AU headquarters in Addis Ababa, Ethiopia, where he held talks with Mahamat on the 2063 agenda.
Would you like to get published on Standard Media websites? You can now email us breaking news, story ideas, human interest articles or interesting videos on: [email protected]