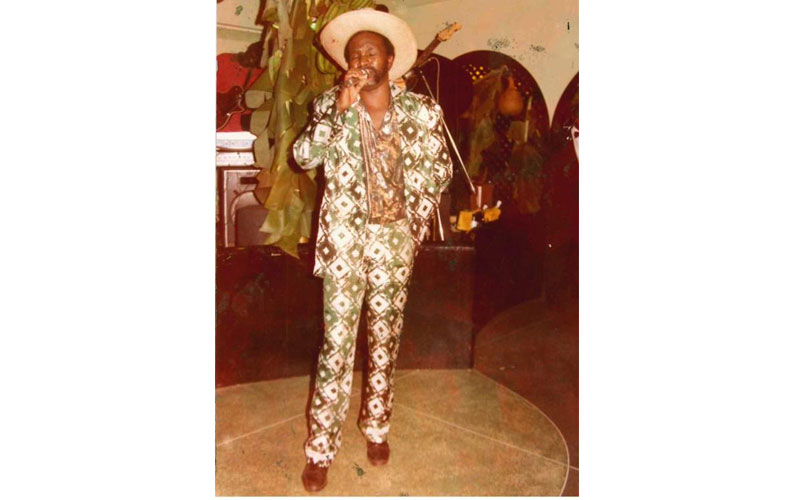 Many things have been said about Gikuyu's veteran pop Benga artist Joseph Kamaru who passed away while undergoing treatment at MP Shah Hospital in Nairobi.
While some described him as the slowly fading pop of Gikuyu artist, others credited him for having paved way for Gikuyu Benga music making it acceptable when many locals hardly appreciated vernacular local music.
A local music legend, Kamaru's music debut was received in unique fashion.
When Joseph Kamaru's Darling Ya Mwarimu was released in 1966, Knut called a nationwide teachers' strike, parliament debated the controversial song and it took the intervention of President Kenyatta to cool down tempers. A musician of rare talent had been born.
Today Joseph Kamaru's music may not currently be on top of the music charts and his once thriving River Road music shop may be no more. But one thing is without doubt; his lyrics, both original and remixes, still enjoy a good audience locally and even abroad.
One evening in 1965 he was listening to the radio when he heard Mwangi wa Gachau's classic Mbeca Ithiragira Urakua; it changed his life.
"I am going to play a better song than this one, and it will also be played on radio," he told his sister, Catherine Muthoni, who was sitting with him.
Years later, he not only composed dozens of hit songs but also sought out by musicologists and scholars doing research on Kenyan music and Kikuyu culture.
Some of his own classics are Ndari ya Mwalimu, a reflection of affairs between wayward teachers and pupils; Tiga Kuhenia Igoti (Don't lie to the court), a tale of sexual harassment involving rape nearly 30 years before it became the subject of public debate; and Nuu Ucio, a deft insight into the issue of promiscuity in the 1980s long before it gained public prominence.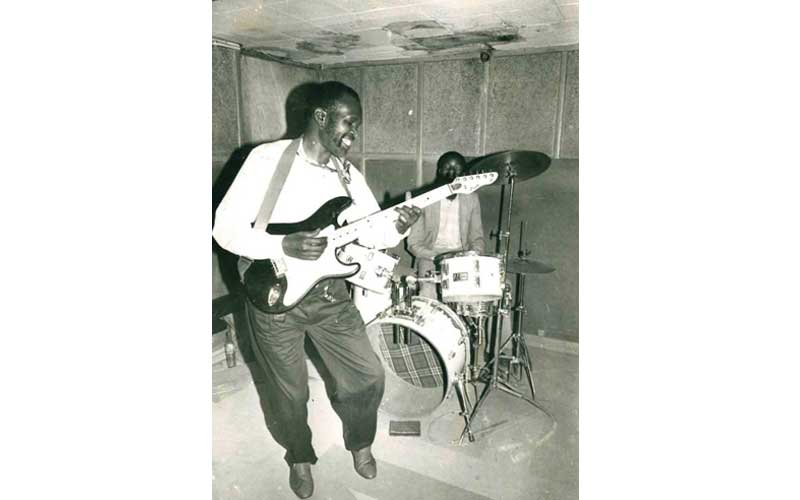 Countless songs
He was not quite sure how many songs he recorded but estimated there could be more than 1,000, some of them never released.
His journey began in Kangema, Murang'a, where he attended primary school, leaving in 1957 for a tough life on Nairobi's mean streets where he peddled everything from Suta capsules to vegetables.
His first formal job was working as a house-help and a nanny, and it paid him Sh180 a month, enough to put his sister through a commercial typing course and buy himself a guitar. But after hearing the Mwangi wa Gachau song, he never stopped believing he would one day become somebody.
His music opened the way into elite circles and, for a time, he enjoyed a special relationship with Presidents Jomo Kenyatta and Daniel Moi. But he fell out with both over matters of principle.
"I was an artiste through and through and defended my constituency, writing songs that reflected the mood of the times," he recalled in an interview.
Eventually the words to his songs fell afoul of the two leaders; he was banished and began to receive death threats.
Martin Dunford, the chairman of the Tamarind Group that owns the Carnivore, remembers watching as hundreds of Nairobi night owls who were seeing Kamaru perform live for the first time dance on the tables, intoxicated as much by the music as the traditional brew muratina.
What he called "one of our best nights ever" was to open the venue to Kenyan music and, more significantly, to an African public, setting the stage for its transformation into a meeting place for a mixed liberal urban audience.
The 1975-85 period clearly represents Kamaru's best years marked by a string of hits and a live band that was one of the best in the business. That success was only enhanced by the release of the adults-only cassettes, all dealing with Kikuyu folk songs, most of which were as explicit as they could possibly be.
"I did it to preserve the songs as cultural material and performed them as close to the original as possible," he said.
Then 25 years ago, he announced that he had been "born again" and would no longer perform the secular music on which he had built his career and huge following.
Many thought it was just a gimmick and that he would change his mind, but he remained true to his conversion.
His career took a nosedive, and he was no longer in great demand. But he has no problem with that, observing that success is subjective and depends on who is making the judgement.
"Candidly, I have not attained the sales levels or the magical pull I enjoyed with my secular music, which some may see as failure, but I am more at peace with myself than I have ever been, and to me this is the success everybody craves," he said.
His first hit recording was in 1968 and he gladly accepted Sh100 in payment.
"I remember going on a shopping spree, buying myself trousers, a shirt, a towel for my sister, who had just had a baby, and a good meal," he said, adding that he was thrilled to hear himself on radio and thus spent more time composing.
His first big hit was Thina wa Karamu, followed closely by Mbeki cia Khaki, castigating bribery and from then on, there was no stopping him.
Kamaru received significant support from Voice of Kenya radio presenter Job Isaac Mwamto, who wholeheartedly embraced the rise of Kenyan music, pulling it from the confines of the vernacular service to the much more prominent national service where Mwamto was a national celebrity.
"He lauded me as Kenya's Jim Reeves after the famous American country and Western artiste, and his support gave me incredible mileage in the music market," Kamaru said.
His rising popularity did not escape the attention of President Kenyatta, who invited him to perform at his Gatundu home. He took his band along, but the President was not interested in the instrumentation and ordered the backup group to stop playing; he only wanted to hear Kamaru sing.
"He summoned me to where he was sitting and asked me to sing, which I did, and he was thrilled. The Head of State then called the Central provincial commissioner and ordered him to do what I wanted done."
Kamaru had issues with competition from Kenyan Asians in the music business and requested that they be barred from it; PC Mburu promptly complied with the wish in keeping with the instructions from State House.
Kenyatta family
Kamaru cultivated a good relationship with the Kenyatta family and performed at the wedding receptions of the President's nephew, Ngengi Muigai, and that of his son, Uhuru Kenyatta.
But the killing in 1975 of J.M. Kariuki, the flamboyant Nyandarua North MP, may have spelt the end of that relationship when Kamaru recorded a song condemning the murder.
"I heard that Mzee was unhappy and had made enquiries wanting to know what caused me to record the song at a time when all fingers were pointing to the President's aides and cronies as the culprits," he said.
The arrival of Daniel Arap Moi at State House in 1978 restored Kamaru's connection with the country's leaders.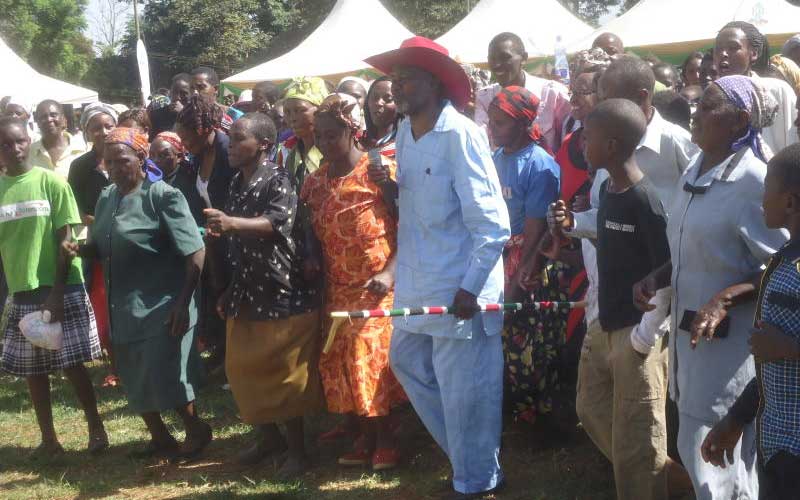 He described his relationship with Mr Moi as "very warm" in the early years of his government when he was a regular face at major presidential functions, mostly as a performer; but occasional social visits cemented their relationship.
In 1980, President Moi invited Kamaru to join his delegation on an official trip to Japan. On their return, the artiste composed Safari Ya Japan in which he was full of praise for the Kenyan leader.
But the push for a return to multi-party democracy in Kenya was to change all that.
The trouble for Kamaru began in 1988 with the release of Mahoya ma Bururi (Prayers for the Nation) which looked at what lay ahead for the country.
Mr Moi was concerned about the content and called Kamaru to State House. On arrival at the President's official residence, Kamaru met a politician from Central Kenya who had preceded him.
"He told me the President asked about the lyrics, and I explained that it was a prayer for the nation. He expressed satisfaction and asked me to do a Kiswahili translation and gave me Sh800,000 for the task," Kamaru said.
The two agreed that Kamaru would return to see the President the following day with a copy of the Kiswahili version of the song.
When he arrived at State House the next day, Kamaru immediately sensed something was wrong. The usual warm reception at the gate was absent, and he was turned away.
"I never got to know the reason and was denied the access I had enjoyed to State House," he said.
In 1992 he was engaged to perform at Madaraka Day celebrations. Ordinarily, artistes do not address political matters on such occasions, but Kamaru was different. He took the microphone and directly addressed the President.
Your fimbo
"Don't sit comfortably with your fimbo (club). I know there are people telling you that you are popular, but the truth is that people do not like you."
There was dead silence in the stadium, and many expected him to be arrested by the security detail that had been caught off guard.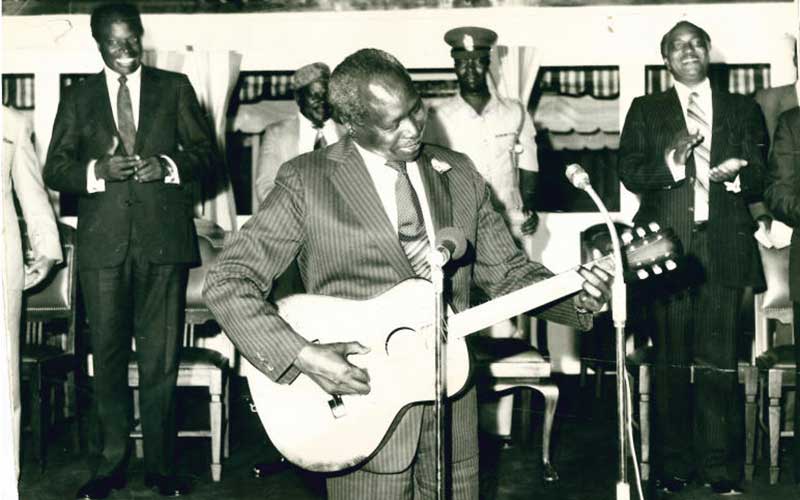 "I had friends calling to inquire about my safety, but there was no threat of arrest," Kamaru said, acknowledging that his music career cooled considerably after that.
When he was born again, his music changed, and he has not achieved the success he enjoyed with his secular hits. Did he miss the old days as a superstar?
"They were good, but I now believe that music that does not glorify God is empty, and my soul is now filled with his praises," Kamaru said. "I am a fuller person now and, regarding the anniversary, it is a birthday bash, not a dance."
Little known outside of Africa, some of his latest hits comprise Muhiki Wa Mikosi and Ke Ngwitikirie have been influencing the music scene in his homeland of Kenya since 1967.
While his earliest hits, including Celine, Thina Wa Kamaru and Tugatigitihanio, were rhythmic dance tunes, and his performances were "x rated, adult only" spectacles, Kamaru completely revamped his approach after he became a born again Christian in 1993.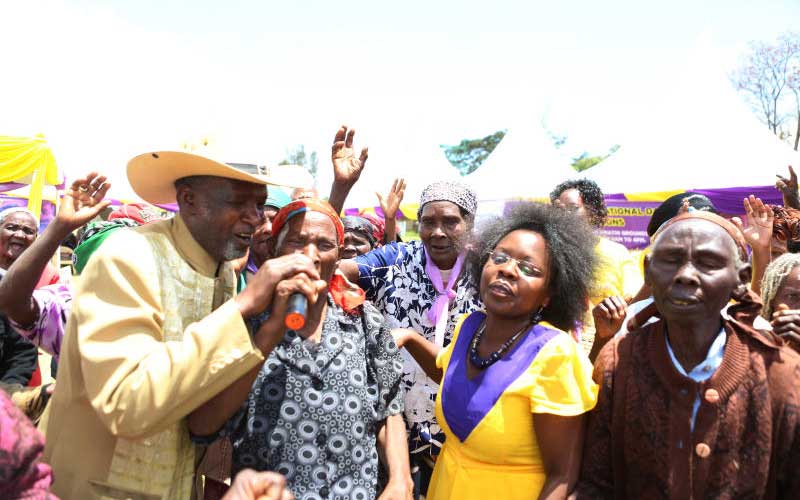 Disbanding his group, Kamaru Supersounds, he formed a gospel music and began singing exclusively for the Lord. Performing highly-spiritual concerts and organizing festivals, Kamaru has helped to make gospel music one of the dominant sounds heard in Kenya today.
Would you like to get published on Standard Media websites? You can now email us breaking news, story ideas, human interest articles or interesting videos on: [email protected]
Related Topics