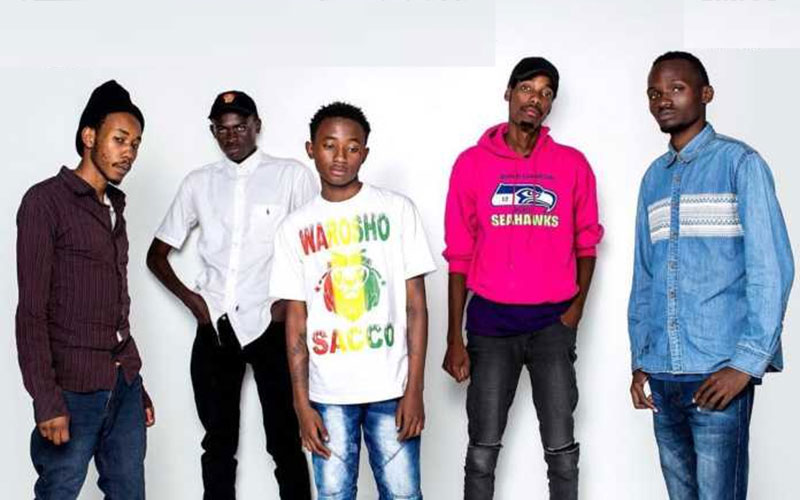 Budding rappers Zilla, Seska, Rekless and Swat have come out to deny reports they turned down a collaboration offer from singer Timmy Tdat.
Speaking exclusively to SDE, the four musicians who make up Ethic, said that Timmy hasn't reached out to them as reports currently doing rounds claim.
Word had it that Timmy wanted to work with them but couldn't reach them because of their disorganized management.
"We didn't refuse to work with Timmy," Ethic told SDE. "He has never contacted us." 
Feud with manager
Whether it's true or not, one thing remains clear; the group is currently having some serious management issues.
Ethic has been topping headlines the past couple of days after a bitter fall out with their manager Teleh Mani.
According to Teleh Mani, he has been handling all their expenses from transport, recording, getting gigs and promotion through his management company Hype Group Limited since they debuted.
On Twitter, he confessed he really regrets investing and working with the crew after they refused to pay him.
"A lot of industry guys told me to stay away from Ethic Entertainment and it was gonna be rough. Nothing prepared me for the f****ry today. I was wrong and I shoulda listened," he said.
"First of all, these guys weren't a group. They just got together for that one song. So I suggested they try out the group thing for a year and if it doesn't work, they can figure their sh** out. They said cool.
"So basically, I hit these guys up when 'Lamba Lolo' had a ka small buzz. Before 100k views around June. At the time all I wanted was to pay for a new 'polished' video. However, I realized that one of the reasons the video even trended was because of how raw and real it was."
Teleh Mani went on to expose their dirty laundry in a series of tweets saying the crew even threatened him after he demanded his money. He also claimed that Swat, who is seen as the fans' favourite in the crew, was doing solo shows behind other member's back, charging as low as Sh 2,000 per show.
The crew has pretty much stayed mum on all these allegations so far. On social media, fans pressured them to speak up on the issue.
Ethic worsened the situation with their response.
"We don't feed or feed on drama but you'll hear our side soon… for now feel free to believe whatever." Ethic, who have just released a new song dubbed Saba Saba, said.
Fans' reactions
Some were agitated by their reply and smelled nothing but arrogance.
"This mentality is what I am talking about. Believe me, there were others before you," a fan told them after their reply.
"True…and some of them ata we can't mention names coz hatuwakumbuki... Kujibeba King na ata title ya prince bado hujafikia," another stated.
"Your side of the story better be legit and come out ASAP because Kenyans really move on quickly. The hype you getting is because Kenyans know you are talented but when they get fed up, that's when your dreams head straight to the drain," another fan warned them.
Would you like to get published on Standard Media websites? You can now email us breaking news, story ideas, human interest articles or interesting videos on: [email protected].