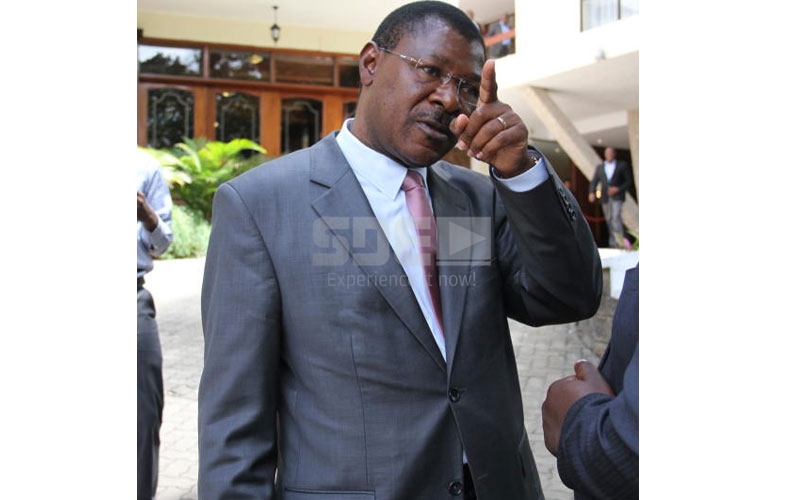 The effects of social media platforms on society have been hailed and criticized in equal measure.
Recently, Bungoma Senator Moses Wetangula got to experience the downside of social media platforms.
Wetangula, perhaps tired of being bashed took to twitter with a warning to those using social media for purposes of insulting others.
"There are persons who think the purpose of social media is to insult and abuse. Pole sana! Contain your inanity else it will become messy!" warned the senator.
His 'messy' comment drew ridicule from a section of Kenyans who were reminded of Wetangula's warning to Raila Odinga in March 2018 after he was replaced as Senate Minority leader.
"If anyone wants a divorce it will be noisy, messy and unhelpful, and it will have causalities. I'm not going anywhere. I was not invited to Nasa - I'm a founder," Wetangula had declared.
Here are the responses.
There are persons who think the purpose of social media is to insult and abuse. pole sana! contain your inanity else it will become messy!!

— Sen.Moses Wetang'ula (@Wetangulam) July 4, 2018
Is that a threat? We are used to your empty rhetoric's and threats. You threatened NASA that the divorce would be messy & noisy, instead it was very quite.

— Kenedy Kaunda ???????? (@KenedyKaunda) July 7, 2018
You have been talking of things being messy for a whole year, and you have done nothing, i think u have nothing to offer Kenyans.

— Jackson Tenai (@tenai_jackson) July 4, 2018
I remember you said your divorce from Raila Odinga will be loud and Messy, i am yet to see anything from you. Wacha vitisho bwana.????????

— Omar Waziri (@Wazirevolution) July 4, 2018
since you you used the word messy, the real Messi has flopped and never performed in the World Cup, next use Ronaldo

— TangaTanga squad (@Kiplang13490133) July 5, 2018
Related Topics