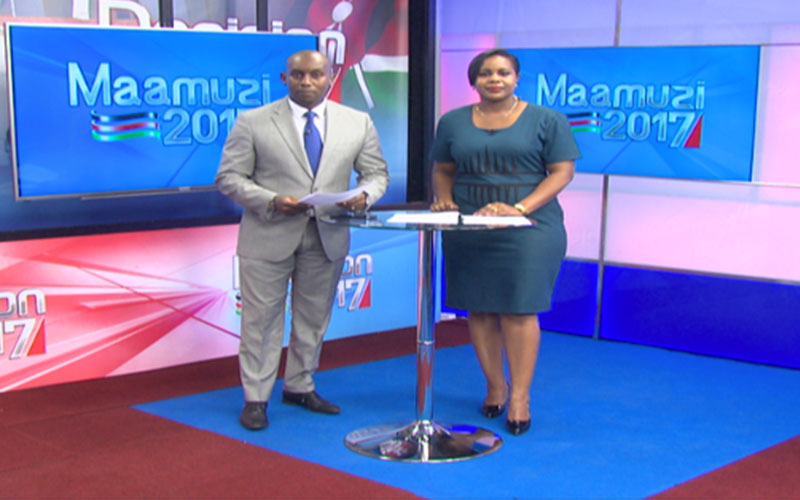 Following a mass exodus of NTV employees, Nimrod Taabu was the last name we expected to appear on the list. Well, it is done and dusted.
His impending exit was confirmed when his colleagues threw a farewell party last week to celebrate his service and contribution to the Kimathi street-based media house.
Taabu, who is as adept in English as he is in Kiswahili, is joining Royal Media Service's Kiswahili desk with information reaching media houses suggesting he is set to anchor a revamped Swahili bulletin at the S.K Macharia owned media house.
The Swahili news anchor is set to join Jamila Mohammed, Swaleh Mdoe and Mwanahamisi Hamadi in the RMS's Kiswahili desk.
After word of his exit hit, his co-anchor Jane Ngoiri penned down a touching message recounting the days they worked together after she joined NTV in 2012.
''What an emotional day it has been. I can feel the void in my heart. I still have tears in my eyes...errr balancing tears is no joke. I never thought a day would come to say Goodbye. Nimrod Taabu has being more than a colleague, a Best Friend.  When I joined NTV in 2012, I was starstruck by this guy who I watched and always wanted to do News with...and when I met him...we just clicked. Our chemistry on TV attracted eyeballs, we connected with viewers and it has always been fun working with NT. Nimrod Taabu; May the Almighty God Bless you in this New Chapter of your Life.'' Part of her long post read.
Since confirmation of his resignation, the Swahili news anchor has spoken for the first time since leaving the Aga Khan owned station.
Responding to his former colleague, Jane Ngoiri, he revealed that he never thought he would want to work with a colleague forever until he met Jane.
''@janengoiri Never in my life have I ever thought that I would want to work with a colleague forever - until I met you and started working with you. Farewell, I will miss you!'' Nimrod Taabu's tweet read.