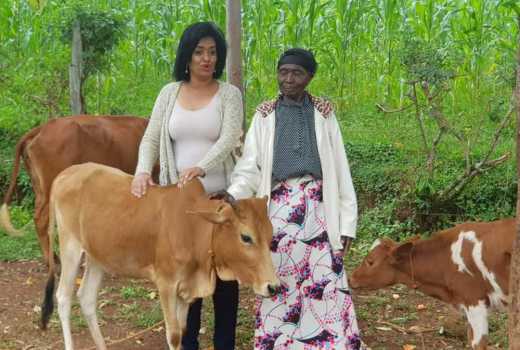 Nairobi County Women Representative Esther Passaris warmed hearts online after she shared her pictures visiting her former house help in Kisumu.
Passaris visited Kisumu for parliamentary work when she took the moment to visit her retired nanny who now lives in the town.
She revealed that she was elated to meet Cucu Mary, as she calls her, who she says was her grandmother's companion who looked after her children from birth.
"Whilst in Kisumu for parliamentary work, I took the chance to visit Mary Ogosi who was a nanny to my children from birth and a companion to my grandmother. It's nice to see her happy and enjoying the returns on her investment on property from her retirement benefit." Passaris' post read
Taking to social media, the first time Member of National Assembly shared a post of her spending time with Mrs Ogosi. The two looked excited as they walked around taking pictures 'inspecting' a number of the Mrs Ogosi's investments including rental houses, her rural home and cows.
Whilst in Kisumu for parliamentary work, I took the chance to visit Mary Ogosi who was a nanny to my children from birth and a companion to my grandmother. It's nice to see her happy and enjoying the returns on her investment on property from her retirement benefit. pic.twitter.com/ZCrdqgPymz — Hon. Esther M Passaris (@EstherPassaris) May 29, 2018
The politician's post warmed netizens hearts with many taking to the comments to laud her for acknowledging someone who played a role in her earlier life:
Kudos! This simple yet profound tweet...is worth a million dollars. You have exemplified...humility, love and compassion. — Mwalimu Catherine (@Cgatheru) May 29, 2018
That's commendable mheshimiwa, you are among the few people who value their nannys — Jimlangathussein (@Jimlangathusse1) May 29, 2018
Ugh. I love you so much. — B.T. Samuel. I hate liberal hypocrisy. (@JustBeaTee) May 29, 2018
thats good https://t.co/jyBgeJ0Vol still remember nanny you have taught me something. — uhurukihoro (@uhurukihoro1) May 30, 2018
thanks hon. Esther u r genuine in your heart. people use and dump their https://t.co/89N8QVjc6n is greater than money. — Charles (@Charles93487569) May 29, 2018
You're always classy! It's so honorable to do that. Most people don't remember nannies who took care of their kids while growing. — #FEARLESS (@SimonOriko) May 29, 2018
The most precious gifts and memories are intangible. The time, The hug, The sharing, The plans, The drive and walk around her home and investment, the whatsaap video calls to my children and her 'grand children' etc all were worth more to Cucu Mary than any amount of cash. — Hon. Esther M Passaris (@EstherPassaris) May 29, 2018
However, a faction were of a different opinion:
Good work but if you can build her a modern house — peter michoki oirere (@PeterOirere) May 30, 2018
Tenda wema nenda zako???? — David Gateru (@wanjoks) May 29, 2018