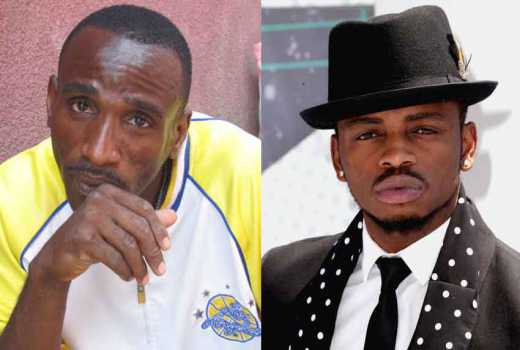 Diamond Platnumz's home turned into a circus late last week after his mother, Sanura Kassim, alias Mama Dangote, allegedly beat the living daylights out of Hamisa Mobetto.
Mama Dangote was reportedly not happy with the fact that Hamisa spent the night at her Madale mansion without permission.
Were it not for the 'Kwangwaru' hit maker's intervention, the situation would have allegedly escalated.
According to Global Publishers, Diamond managed to whisk Ms Mobetto to his car and ordered his driver to speed off before his mother could inflict more harm on the video vixen.
Speaking to a Tanzanian daily, Mama Dangote was angered by Hamisa's actions owning up to beating her up and yanking off her wig forcing her to run for her life with her sandals in her hands.
''Yaani kiufupi simpendi na simtaki na kila akikanyaga hapa kwangu ni kipigo tu. Alipokuja kiwizi usiku ule na kulala nyumbani kwangu, alipaswa kuondoka kabla sijamuona. Kwa nini alisubiri mimi nimkute? Maana siku hiyo asubuhi yake nilitoka na nilivyorudi ndipo nikamkuta
''Diamond yupo na yeye ndiyo alimsaidia kumuamulia mimi nikabaki na wigi, la sivyo ingekuwa shida. Alikimbia na viatu mkononi, maana nilikuwa nimeshavitupa nje ya nyumba yangu,'' said Diamond's mother during an interview.
Diamond's biological father Abdul Juma has also wighed in on the matter saying he is not happy with the actions of his ex-wife.
Speaking to Global TV, Juma expressed his anger at Mama Dangote for doing the unthinkable and for meddling in their son's private affair.
''Awache watoto wafanye lao… Sio vizuri kumpiga mtoto wa mtu. Sijapendezwa katika nafsi yangu. Hawezi akampiga mkwewe ambaye ashazaa na mwanawe,'' noted Juma.
He addedthat Diamond should do the right thing and marry her,"Afanye busara la Kiislamu waowane."
But it will not be a walk in the park after his illicit affair with the video vixen has driven a wedge between him and his mother.
Mama Dangote has always favored Zari and maintained that Hamisa is not wife material and should he choose to marry her, she would not attend the wedding.