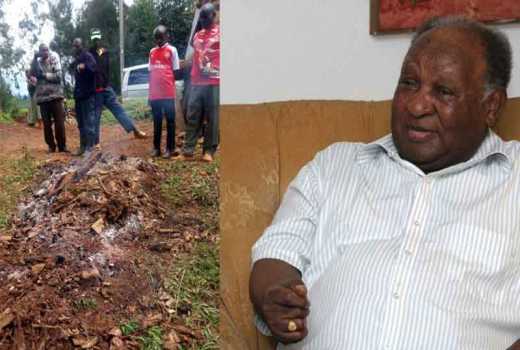 Barely 48 hours before politician Kenneth Matiba's death, a Mugumo tree fell after it was struck by lightning in Kiaguthi village, Murang'a County.
The tree, which marked the border of Mugoiri and Murarandia wards in Kahuro sub-county, is said to burst into flames on Friday night.
According to Kikuyu cultural beliefs, this was an indication that a prominent person would die.
The Murang'a chapter of the Kikuyu Council of Elders visited the site.
Council Chairman Joakim Gitonga said the tree fell on Friday night and the fire took hours to put out despite heavy rains.
"Whenever a Mugumo tree falls it is considered to have a message and this time it went down with Mzee Matiba," said Mr Gitonga.
The retired Catholic priest mourned Matiba, saying the icon was instrumental in the stability of Murang'a.
Gripped with fear
Mary Wandia, a Kiaguthu resident, narrated how she and other villagers were gripped with fear when the tree fell.
She said in the 1960s, when another tree fell, many of the white soldiers operating in the village left.
"The tree fell after lightning struck it in the middle of the night and the fire took hours to put out," she said.
The tree in Kahuro stood barely two kilometres from Muriranjas Hospital, which Matiba helped to build.
Two years earlier Matiba had joined Murang'a Governor Mwangi wa Iria in commissioning the Kenneth Matiba Eye and Dental Hospital at Kenol.
The hospital was built by the Murang'a County government and the politician described it as the best gift to the residents.
The former Cabinet minister is credited for spearheading the establishment of Murang'a College of Technology by contributing Sh320,000 during the inaugural fund raising in 1971.
Gitonga was the college's first principal.
First principal
"In that harambee, then President Mzee Jomo Kenyatta gave Sh10,000 while his son, Uhuru Kenyatta, handed over a Sh100 note," recalled Gitonga.
He added that Matiba later supported the construction of a squash hall at the institution and kept alive the dream that it would be an important learning centre in future.
Matiba's cousins, Edwin Matiba and Karugo Mugo described the politician as a visionary leader who had ideas that could have transformed the country had they been implemented.
Speaking in Murang'a town, Mugo, a former councillor in Murang'a, said the Opposition icon helped in the construction of Muriranja Hospital offered an ambulance. "Right now the family has little information to share with the media as the Government has been approached to give him a State function."