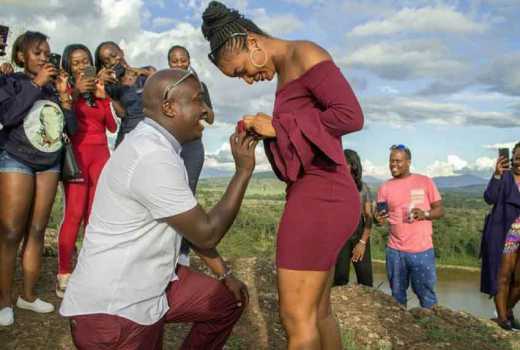 Love is in the air for Dj Incredible after he got down on one knee and asked his long term girlfriend Cindy Nambisa for her hand in marriage.
The Kiss TV Dj executed his move after he popped the question at a surprise getaway at a crater in Lake Naivasha.
''They say he who finds a wife finds a good thing.. it's safe to say I have found a wife, a lover, a partner, a best friend and so much more all wrapped in one so I've not only found a good thing.. I've found THE BEST and I thank God she just had to say YES. Huge shout out to my friends and family who came through for us.. I can't thank you enough.. .'' He posted.
An elated Nambisa also took to her social media pages where she broke the good news.
''Pear Shape… just what I wanted. I know it's so hard to get it but you went beyond to look for it baby. You made me the happiest girl on 07/04/18.'' She wrote.
Congratulations to the newly engaged couple in town.