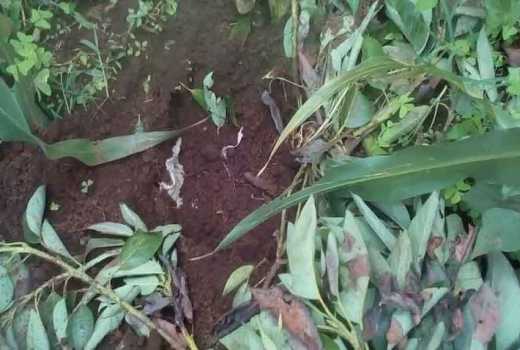 Residents of a village in Konoin, Bomet County, are reeling in shock after five stray dogs unearthed the body of baby believed to have been strangled and buried on the 7th of April, 2018.
According to villagers, their attention was drawn to a pack of dogs howling menacingly on a tea plantation that fateful day. Upon investigations, they discovered that the dogs had exhumed a new-born buried in a shallow grave.
"The dogs were backing and howling, thing that is unusual during daytime and minutes later it was discovered that they had exhumed the body of baby boy," said one villager.
Villagers immediately picked up the baby and marched to a suspect said to have been expectant on the material and demanded answers.
The suspect on being asked about her 'missing' baby pump, claimed that she had gone insane thus could not remember anything.
 "I've known her for a while, she separated with the husband long time ago, but she was expectant, she usually pluck tea around," added the neighbour.
Officers from the nearby Mogogosiek police station were notified and arrested the woman.