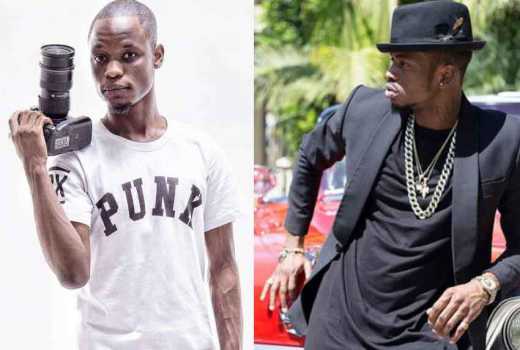 So much has been happening in the life of bongo superstar Diamond. If his not publicly checking out and flirting with his baby mama Hamisa Mobetto during a film festival that was held over the weekend in Tanzania, he is beefing.
 This time round it is with none other than a close friend and his official photographer, Kifesi who has been there through the sweet and bitter times.
It all started after Kipesi made a public post about Diamond's bad decision of letting go of Zari and their family after Zari was in Tanzania to promote Softcare diapers as the new brand ambassador.
''Woman and a half Blaza angu chibu hiv kweli ndio umekubali huyu mwnamke wa baraka ulopewa na Mungu akakupa na kafamilia kazuri aende.. Duh haya bana.. Akili n nywele kila. Mtu na nywele zake ..As ur good friend since day one who will never celebrate ur downfall nisopenda kuona unapotea in any way me nitaendelea tu kukumbusha.. Na kukuombea pia akili zirejee usijekumbuka shuka pamekucha.'' He posted.
What ensued afterwards is anyone's guess after Diamond blocked him from him social media and days after the post of Kipesi praising Zari went up the two were no longer working together.
If rumors are anything to go by, Diamond is said to be behind the firing of the renowned photographer. He on the other hand claims he quit to pursue other opportunities more so to be closer to God having worked with the artist for close to five years.
Here is the long post he wrote following the decision.
''Leo ikiwa ni siku takatifu na siku ya ibada kwangu ni siku niloamua kufnyamaamzi yatagobadili maisha yanguNimeamua rasmi kuacha kazi kama. Mpiga picha wa diamond na mwajiriwa wa wcb.. Well It's insane to be leaving a stable job u love But that's reality for me naacha kaz kwa mtu alokua zaid ya Rafiki kwangu naacha kaz ambayo ni ndoto ya Vijana wengi out there but to me..i see miaka yngu 4/5 ya kufanya kaz hapa inatosha niachie nafasi kwa vijana wengine nimeamua kufata moyo wangu . . ni uamzi nilokua nao karibu mwaka sasa but kama ilivo kwa waajiriwa wengi is so hard kufnya maamzi ya kuacha kazi but IN ORDER TO GROW WE NEED TO MAKE CHANGE.. Naacha kazi to persue my Dreams life ikiwamo Kujiajiri mwenyewe. Naacha kazi ili nipate muda mwingi wa kuwa flexible nitumie muda wangu mwingi ku-unleash my potential for excellence.  reason ya mwisho na kubwa zaid kwangu.. Naacha hii kaz ili niwe karibu zaid na Mungu wangu kwa iman yngu kama. Mkristo nilkua nafnya kaz Katika lifestyle na mazingira ya kazi yasompendeza Mungu . . ni swala ambalo limenikosesha aman kwa miaka yote but at the end we need to choose GOD over everything.. Cfa. Umaarufu na fahari yote ya Dunia vitanifaidia nn endapo nitaukosa ufalme wa Mungu...?? Nimeamaua ku drop kila kitu i just want to have peace of mind .. do my works .. live my life and hav time with God... Ukimchagua Mungu hata hiv vingine atakuongezea najua kutakua na changamoto nyingi.. Up and downs but Mungu He knew me b4 a was born aliahid ukimchagua yeye he will open the doors atatufnya kuwa Kichwa na cyo mkia.. Mwishonashukuru familia yote ya wcb  kwa kua nami for all these yrs was great working with u.. but zaid nimshukuru Diamond kwa mda wote nlofnya nae kaz since chini mpka sasa.. Nimefnya kazi kwa mapenz.. bidii na uaminifu mkubwa Kwangu haukua boss bali rafik n nilkua rafik wa kweli kwako a will always appreciate mchango wako kwangu.. Tusameheane pale tulipowai koseana we are just humans ..hatutakua pamoja kikaz but  Nina iman tutaendelea kua marafiki. God bless u.. Uzid kufika unapopenda kufika.. GOD Bless me.. God bless my next Hustles #happysabbathDay.'' He posted.