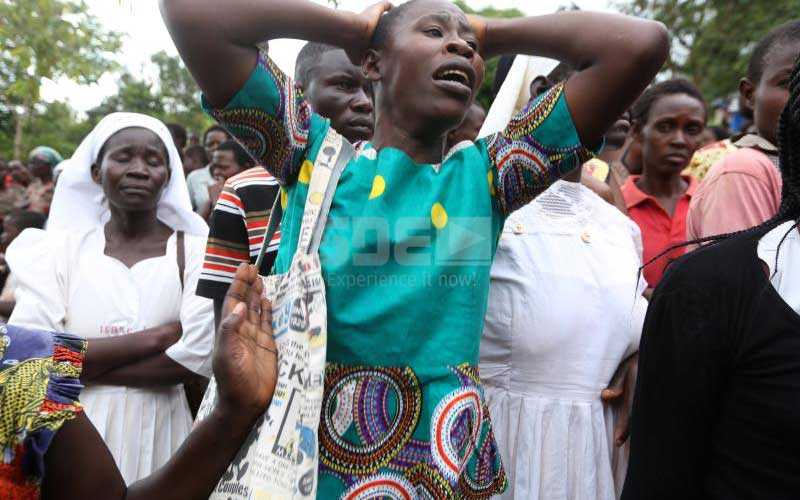 Domestic row between two women turns tragic
The three minors were lured to their deaths with a promise of lunchtime porridge
A woman yesterday hacked her co-wife's three children to death before committing suicide in Masara village in Vihiga County yesterday.
The body of Jecinta Adhiambo was found hanging from a rope tied to the ceiling.
On the floor were the three bodies of her co-wife's children. They each had deep machete cuts on the neck.
The children aged seven, four and two years were said to have been lured into the house by Ms Adhiambo, who promised them some porridge for lunch, after a domestic wrangle with her co-wife Hellen Atieno.
Rejected invitation
Ms Atieno's oldest child aged nine escaped because he rejected the invitation.
The boy said when he and his siblings got to Adhiambo's house, she tried to pull the door closed but he became suspicious and stepped outside and ran away.
Witnesses said after Atieno left for church, Adhiambo went for the children and offered them porridge.
The three were then given porridge suspected to have been laced with poison before they were hacked to death.
A neighbour who had seen the children enter the house informed their mother, who headed for her co-wife's house only to find it locked from inside.
Villagers broke into the house and found the four bodies.
On a table were two bananas and three cups of porridge.
Adhiambo, who was the second wife of Festus Ogonda, was married a year ago and had been living with her husband in Nairobi.
"Jecinta and my husband came home last week to attend my brother-in-law's graduation ceremony. That was when our differences began," said Atieno.
Second daughter
"She sent my second daughter on an errand in the rain. My daughter had been sickly and I was worried that she was walking in the rain, so I asked Jecinta about it," she added.
After an altercation, Jecinta tried to commit suicide by burning herself in the house, but she was rescued. Two days later, she attempted suicide again by ingesting poison, but was rescued again. She was admitted in hospital for four days.
Barely a week after the second suicide attempt, she succeeded in taking her life together with the lives of her co-wife's children.
The village was yesterday engulfed in grief as residents tried to come to terms with the incident.
"This is very sad; the woman should have been sent away after the first suicide attempt," said Naftal Orwa, chairman of the village peace initiative.